A lifelong Raider has been promoted from within.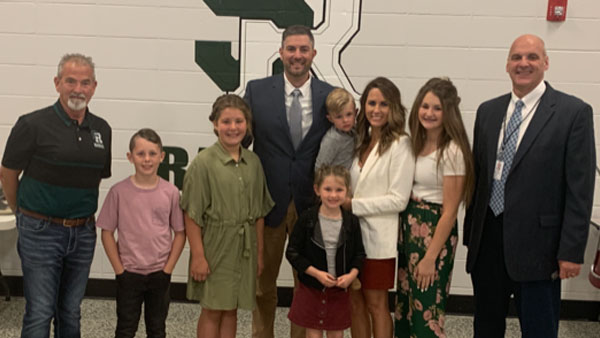 South Ripley School Board President Tim Taylor and Superintendent Rob Moorhead congratulate the Lauber family at the May 17, 2021 school board meeting. Pictured L to R: Tim Taylor, Hudson Lauber, Sophie Lauber, Ryan Lauber, Molly Lauber, Jaime Lauber holding Hayes Lauber, Ellie Lauber, and Rob Moorhead. Photo provided.
(Versailles, Ind.) - South Ripley Community School Corporation is pleased to announce that Ryan Lauber has been named the new Principal of South Ripley Elementary School beginning July 1, 2021. Lauber replaces Amy Linkel who resigned effective at the end of the current school year to become the new Director of Learning at Switzerland County schools. Lauber has been serving as the Assistant Principal at South Ripley Elementary School for the past six years.
Prior to becoming Assistant Principal, Lauber spent 11 years as a classroom teacher at SRES teaching 2nd and 5th grades. He has been involved in the implementation of many initiatives at SRES over the past several years, including being a leader in the 1:1 technology initiative. Lauber is a Google Level 2 Certified educator and is very proficient in the use of technology. He was also the leader in creating the Attend and Engage Program (AEP) with Ripley County Court Services that provides accountability and support to encourage families to make sure their students are in regular attendance at school. After piloting the program at South Ripley, AEP is now used at schools across Ripley County.
Lauber describes himself as a lifelong Raider, graduating from South Ripley High School in 1999. He received his Bachelor's Degree from Indiana Wesleyan in 2003 and earned a Master's Degree in Elementary Reading and Literacy from Walden University in 2006. He earned his Educational Administration Licensure from Ball State University in 2010. He also holds certification as an Indiana School Safety Specialist.
Ryan and his wife, Jaime, live in Holton with their five children Ellie (14), Sophie (12), Hudson (10), Molly (8), and Hayes (3).
Rob Moorhead, South Ripley Community School Corporation Superintendent commented, "We could not be more pleased to see Ryan Lauber step up to become the principal at SRES. Ryan is extremely well prepared to take on this role, as he has been an integral part of many initiatives throughout his time as a teacher and administrator at the school. Ryan has built excellent relationships with the SRES staff and is highly respected by parents and community members as well. We look forward to SRES continuing the tradition of academic excellence under Ryan's leadership."