There was no discussion on potential school closures as a public hearing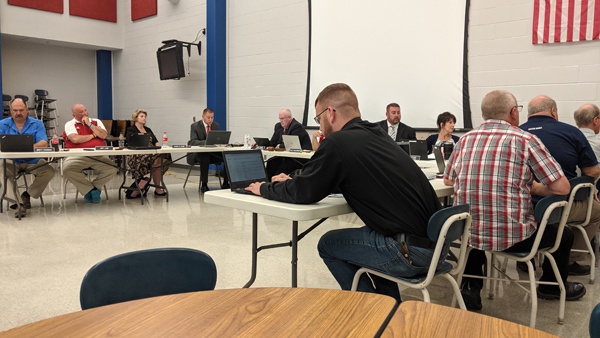 Photo by Mike Perleberg, Eagle Country 99.3.
(Aurora, Ind.) - South Dearborn Community Schools are advertising a larger budget for 2020, but the spending plan could be reduced before final approval.
The school board held a required public hearing about the proposed budget at South Dearborn Middle School on Tuesday, September 17. The total advertised budget for 2020 is $28.2 million.
For comparison, that figure is up about 1.8 percent from this year's approved budget. The increase is thanks in part to a $20 million increase in assessed property valuation in the school district, which now totals $559 million.
However, the ask in the 2020 advertised budget is down from $28.8 million in the advertised budget last year, which was eventually approved at a lower $27.7 million the district is now running on.
The school board could vote to adopt the proposed 2020 budget at their next meeting on October 15. If approved, it would then be up for final approval by the Indiana Department of Local Government Finance.
The largest portion of the budget is the education fund, which is pegged at $15.8 million. The education fund is the only which is funded by the state.
Other school district funds are fed by property tax revenue. South Dearborn's budgeted operations fund is $7.2 million, debt service fund is $4.5 million, the pension debt fund $110,790, and the rainy day fund $500,000.
South Dearborn's school board has been weighing whether to close one or more of its schools in Moores Hill, Manchester, Dillsboro, or possibly even Aurora in the face of an ongoing enrollment decline, but no decision has been made on that yet.
Although a sizable crowd was present in the middle school cafeteria, no discussion on school closures took place at Tuesday's meeting. Nobody in the audience took to the podium to address the board during the public comment section of the budget hearing.
The full budget presentation can be viewed below:
RELATED STORIES:
South Dearborn, State Teachers Unions Enter Legal Battle Over Membership
SD School Board Discusses Facility Improvements Amid Enrollment Issues
School Board Work Session Becomes Larger Discussion On South Dearborn's Future
Taxpayers' Efforts Successfully Stop SDHS Improvements, For Now
LETTER: City Of Aurora Seeks Transparency In South Dearborn HS Building Project
South Dearborn Board Won't Close School... Yet
Passionate Moores Hill Residents Come Out To Fight Possible School Closure