Emma Allen and Abbigayle Eldridge are spending their summer before college helping out at the Ripley County Community Foundation.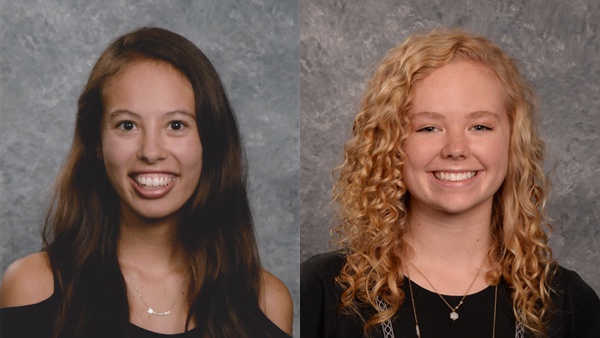 Ripley County Community Foundation summer interns Emma Allen (left) and Abbigayle Eldridge. Photos provided.
(Ripley County, Ind.) - The Ripley County Community Foundation is pleased to announce Emma Allen and Abbigayle "Abbi" Eldridge as summer interns. These summer internships are intended to provide real-life work experience for students wishing to advance their educational and personal development. Through this internship, Ms. Allen and Ms. Eldridge will aid the staff at the Ripley County Community Foundation while experiencing the role that the foundation plays in the community's quality of life.
Both students first joined the Ripley County Community Foundation through Oldenburg Academy's internship program this past year. Emma lives in Batesville and is a recent graduate of Oldenburg Academy. She will be attending Tulane University in New Orleans next fall and plans on majoring in Political Economy and English. Throughout high school, Emma has been involved in Theater, Cheerleading, National Honor Society, National Business Honor Society, Academy Singers, and Book Club. After college, she plans on attending law school. "My first semester at the foundation was an amazing educational experience. I was treated as a member of the staff as opposed to a student, and given tasks and responsibilities that pushed me and helped me realize my future career goals. I am excited to be returning for the summer and so grateful for the opportunity," Emma stated on why she is looking forward to working at the foundation this summer.
Abbi was raised in Greensburg and attended Oldenburg Academy. Next fall, she will attend Indiana University in Bloomington. She plans to major in Cognitive Science and Spanish. In high school, Abbi participated in Student Council, volleyball, National Honor Society, Foreign Language Club, Book Club and the Indiana University Honors program for Foreign Language. After she graduates from Indiana University, Abbi plans on attending law school. When asked why she is excited to return to the foundation, Abbi stated, "I am excited to use the skills I have gained during my internship for school and apply them this summer when I am given more responsibility as a staff member. I am very appreciative to be offered this position and look forward to taking advantage of this experience."
These internships are funded by a grant from Lilly Endowment, Inc. and are available as part of the Community Foundation Internships (CFI) program, which will be administered through the GIFT (Giving Indiana Funds for Tomorrow) program at the Indiana Philanthropy Alliance. CFI is furthering the Endowment's efforts to build healthy community foundations and provide high-quality internship opportunities in Indiana.