The investigation began when federal agents intercepted a shipped package containing steroid compounds.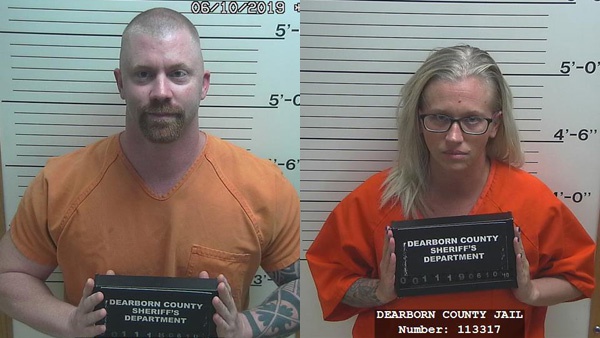 Nicholas and Cori Gilbertson. Photos by Dearborn County Sheriff's Office.
(Hidden Valley, Ind.) – When U.S. Customs and Border Patrol and Homeland Security agents intercepted a delivery package containing chemical compounds commonly associated with creating steroids, they wanted to find out who it was being shipped to.
The investigation led them to a Hidden Valley couple who are now facing allegations that they were dealing and manufacturing anabolic steroids.
Dearborn-Ohio County Prosecutor Lynn Deddens announced Monday, June 10 charges against Nicholas Gilbertson and wife Cori Gilbertson. They each face seven counts of Dealing/Manufacturing Anabolic Steroids (level 2 felony), Possession of a Legend Drug, and Maintaining a Common Nuisance.
Indiana State Police conducted the investigation starting in February when federal agents intercepted the parcel which had entered into the U.S. and was destined for a location in greater Cincinnati. The Hamilton County Drug Abuse Reduction Task Force and other agencies conducted a controlled delivery of the package to the address on the shipping label.
The person to whom the package was delivered told investigators that the package was destined by Nicholas Gilbertson. The recipient claimed he was paid $100 to receive packages at his residence, then transfer the deliveries to Gilbertson at the place where they each worked in Fairfield, Ohio.
ISP troopers took over the investigation and, after a series of investigative techniques, they obtained a search warrant. In a search of the Gilbertson home on Brookridge Circle in Hidden Valley on March 4, state police located a lab for manufacturing steroids.
The lab was hidden behind a bookcase. It contained a modified, closed ventilation system to filter out chemicals and powders used in processing the pills.
Investigators allegedly located 25,000 pills or capsules packaged for sale or about to be packaged. 1,200 vials containing steroid compounds were also found.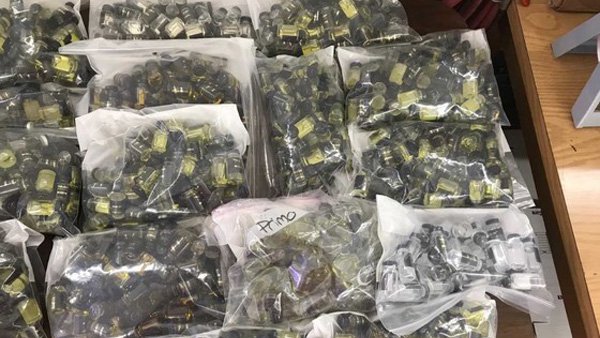 Steroids allegedly manufactured by the Gilbertsons. Indiana State Police photo.
Deddens said the chemicals for manufacturing the steroid were of Chinese origin. The Gilbertsons, she added, were being paid with cryptocurrencies such as Bitcoin.
Communications between the Gilbertsons obtained by police showed the couple were selling and shipping the steroids across the U.S.
The Gilbertsons are each in the Dearborn County Law Enforcement Center on bonds of $12,500 cash and $500,000 surety. In setting the high bond, the judge noted the Gilbertsons' two young children were present for much of the criminal activity, according to Deddens.
"Because of communications and shared investigation, a large lab was shut down. The sheer quantity of steroids that were allegedly being made and sold through a suburban residence, going undetected for a significant period of time is alarming," said Deddens.
RELATED STORIES:
Steroids Reason For Police Searches At Two Dearborn Co. Homes