The legislators spoke about issues regarding education, gaming revenue, technology, transportation and COVID-19.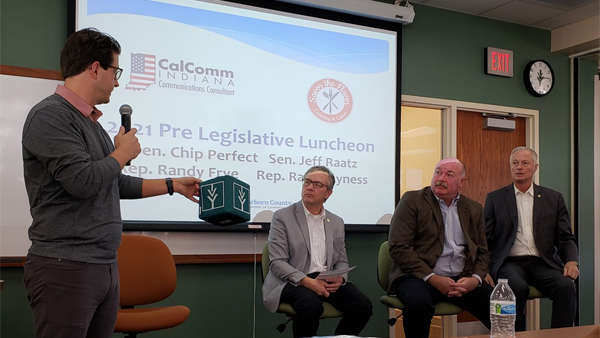 Dearborn County Chamber of Commerce President/CEO Eric Kranz (left) opening up conversation topics with State Sen. Jeff Raatz (R-Richmond), State Sen. Chip Perfect (R-Lawrenceburg), and State Rep. Randy Frye (R-Greensburg). Photo by Travis Thayer, Eagle Country 99.3.
(Lawrenceburg, Ind.) - State legislators from southeastern Indiana were in Lawrenceburg on Monday to discuss issues facing the Hoosier state.
The 2021 Pre-Legislative Luncheon was held at Ivy Tech Community College Riverfront Campus in downtown Lawrenceburg.
State Senator Chip Perfect (R-Lawrenceburg) kicked things off by talking about redistricting within the state. The General Assembly approved new congressional and state legislative district lines in October. Indiana is required by state and federal law to redraw Indiana's Statehouse and congressional maps following the nationwide census every 10 years.
RELATED: General Assembly Approves New Congressional, State Legislative Districts
The redistricting will impact each of our local legislators.
Following the general election in November of 2022, Senator Jeff Raatz and State Rep. Randy Frye will no longer represent Dearborn County. However, Sen. Perfect says the two have a vested interest in the area.
"I've gotten to know these guys pretty well," said Perfect. "We've gotten to be not just co-legislators but friends over the years and I've got to tell you even though technically they do not represent Dearborn County, I can assure you knowing the guys they are they are going to continue representing Dearborn County. They are invested in the area."
Perfect and Representative Randy Lyness (R-West Harrison) will be the primary representatives in Dearborn County. Lyness was unable to attend Monday's luncheon due to a death in the family.
Perfect commended Lyness on the job he's been doing. Lyness helped carry some significant legislation a couple years ago as it relates to employing minors. Without the legislation, Perfect said the state could be in a more difficult position in terms of employment, citing that many struggling businesses have filled entry level positions with young people.
The 2022 legislative session will begin on January 4 and will run into mid-March. One of Sen. Perfect's top priorities this session is protecting gaming revenue for what he called "host communities", such as Lawrenceburg, Rising Sun, and Vevay, locally. Perfect says recent gaming legislation has decreased host revenue, while other communities see very little fluctuation.
"Ohio County took a pretty big hit in their revenue from gaming as an unintended consequence of some well intended legislation, and that happens a lot. "I tried to fix that last year and wasn't able to do it, and I'll try to fix it again this year," said Perfect.
Another issue with gaming revenues comes on the heals of the success of sports betting. The industry has generated 10 to 15 times more revenue than initially expected, but Perfect says the revenues are not staying with host communities that help facilitate sports wagering throughout the state.
"With sports wagering, there has to be an association with a gaming facility. The challenging thing for me is, we host this operation but we don't get to share in that revenue even though we continue to host and provide services."
Perfect added that there is significant I-Gaming legislation that he believes would be run similar to sports betting.
"I don't know exactly what it is but I think you can play a slot machine while sitting on your couch at home," Perfect added.
State Senator Jeff Raatz (R-Richmond) spoke second at the pre-legislative luncheon. He will continue to serve portions of Dearborn County up until the general election next year. Moving forward, he will continue to serve locally, covering Franklin County if re-elected.
Raatz spent much of his time speaking on issues in education. He spoke of potential legislation surrounding career coaching and exploration programs.
"My concept is let school districts do what you want, but I'd like to also incorporation private industry or a third party to come in a perform duties."
The programs would help generate career pathways for students, starting as early as fifth grade. The idea is to find out student's desire and aptitude for certain careers. Once students reach high school, work base learning or apprenticeships would come into play to get on the job training as a junior and/or senior - and even earn credits.
"I really believe that is part of the future," said Raatz. "The beginning of graduation pathways are upon us, we created that legislation a few years ago where not necessarily a student would discern whether or not they are going on a career pathway or to college, but we've blurred those lines a little bit. So if a student is headed to work in a machine shop they got have some additional information and skills to function and function well."
State Rep. Randy Frye (R-Greensburg) took the mic next. He too will be impacted by redistricting in 2022. Frye will also be losing Dearborn County in 2022, in addition to Ohio and Switzerland counties. He will continue to serve much of Ripley County upon re-election.
"It had to happen due to population shift," said Frye.
Frye believes the rural population decrease is due to lack of technology and transportation. The tech side of things in particular has been troubling for rural citizens. However, the historic state budget that was approved earlier this year dedicated $250 million to broadband expansion. Locally, Southeastern Indiana REMC is currently installing fiber for members served from the Elrod, Versailles, and Hopewell substations.
To address the transportation needs of local community members, a $200 million project has been approved to extend State Road 101. The 25-mile extension of State Road 101 will connect the existing portion of the highway at U.S. 50 near Milan and the Ohio River Crossing via Markland Dam near Vevay - providing a direct network for Dearborn, Ohio, Ripley and Switzerland counties to both I-71 and I-74.
RELATED: Gov. Holcomb Announces $475 Million in Transformational Infrastructure Projects - Eagle Country 99.3 (eaglecountryonline.com)
Frye says environmental work has already begun and will take approximately two years to complete. That will be followed by bulldozing, which is expected to take another two years to complete before finally getting to paving of the new roadway. The entire project is expected to take about 10 years to complete.
Another big topic discussed was House Bill 1001, which is typically seen as the most important issue during the legislative session. Frye co-authored the legislation to help end the statewide public health emergency and protect Hoosier workers.
The legislation would allow Governor Holcomb's state public health emergency to expire by ensuring Indiana could continue receiving the same federal reimbursements for SNAP and Medicaid, and maintain the state's ability to hold voluntary community vaccinations clinics. HB 1001 would also require business to accept medical and religious exemptions if they require the COVID-19 vaccine as a condition of employment.
"No one should have to lose their job for the vaccine," said Frye.
Senator Perfect says he is not a fan of the bill because the "response to a mandate is a mandate".
The legislators also fielded questions about personal property tax, curriculum in schools, solar energy, and more.
To follow along with the 2022 legislative session, visit House - Indiana General Assembly, 2022 Session.