Beverly Fulkerson got the surprise of a lifetime this week.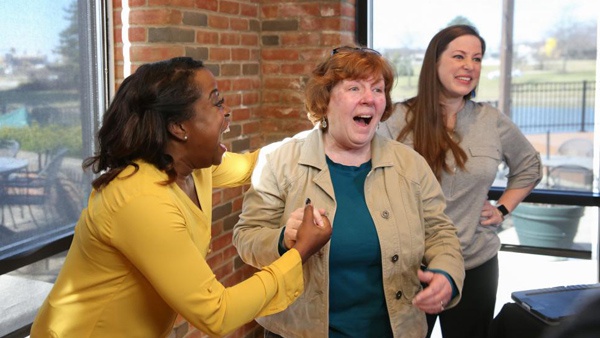 HGTV designer and host Tiffany Brooks reveals to Beverly Fulkerson that she is the winner of the 2019 HGTV Dream Home. Photo by Chris Cone/Getty Images.
(Ripley County, Ind.) - A woman from Ripley County is the winner of a major prize from the HGTV network.
Osgood resident Beverly Fulkerson was surprised this week as the winner of the 2019 HGTV Dream Home, the network announced Wednesday, March 20.
Believing she was going to gather with her family to celebrate an award for her daughter, HGTV designer and host Tiffany Brooks surprised Fulkerson with the news that she was the winner of the prize package valued at $2.3 million.
Fulkerson gets a completely remodeled and fully furnished home in Whitefish, Montana, a 2019 Honda Pilot, and $250,000 from Rocket Mortgage by Quicken Loans.
"I would love to be sitting on that porch – and in that hot tub!" she said of her new home in the Rocky Mountain resort town.
She and her husband will get to see the three-bedroom, three-and-a-half bath home packed with custom touches for the first time in coming weeks.
Betty was randomly chosen from nearly 135 million entries to win the largest giveaway in HGTV history. She had been entering the HGTV Dream Home giveaway contests since 1998. She entered the drawing twice a day every day.
"I entered knowing that I would never win," Fulkerson said.
You can watch the big reveal to Fulkerson at HGTV.com.
See her new Montana home when it is featured on the HGTV Dream Home 2019 Giveaway Special premiering Friday, May 24 at 1:00 p.m. ET on HGTV.