Ohio Governor Mike DeWine wants to prevent new tragedies with gun law reforms.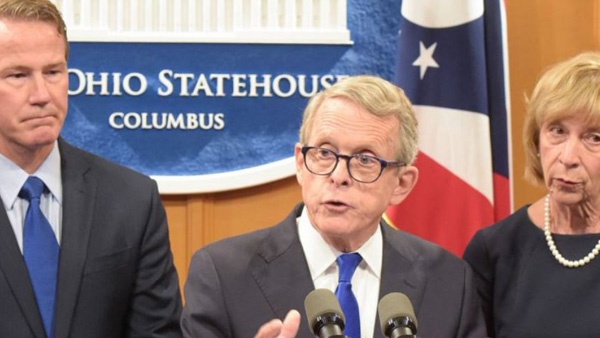 Ohio Governor Mike DeWine speaks at a press conference on Tuesday, August 6, 2019. Photo via Oh.gov.
(Columbus, Oh.) - Following a shooting that left nine victims dead in a Dayton entertainment district last weekend, Governor Mike DeWine is releasing a list of 17 proposals for dealing with gun violence in Ohio.
"Gun violence doesn't just take the form of mass shootings, people are victims every day in Ohio and across the country," DeWine said at a statehouse news conference Tuesday. "I believe that this is both a public safety issue and an individual wellness issue – we must address both sides to help solve the problem. It's time to do something, and that is exactly what we are going to do."
DeWine spoke about what he called his action items which deal with increasing penalties for gun crimes and establishing programs for mental health. He said many of his proposals would use money that has already been approved in the state budget.
One of DeWine's proposals calls for background checks on the sale of all firearms in the state with the exception of gifts between family members.
The plan also includes passage of a red flag law. Such laws allow safety protection orders which would remove firearms from potentially dangerous individuals and get them the mental health treatment they need all while maintaining an individual's right to due process.
The plan also includes early intervention for individuals with mental health and increased access to behavioral health services for students. DeWine also called for increasing penalties for felons who illegally possess a firearm or commit a felony while in possession of a firearm.
The governor said the Ohio Department of Public Safety is expanding their ability to monitor and track potential threats on social media and will share that information with local school and local law enforcement.
"I believe these proposals fulfill three important requirements. They can pass the legislature, they make meaningful progress toward safer communities, and they are Constitutional. Passing them won't be easy, but this is the right thing to do and this is the right time to do it," DeWine added. "We can pull together to do meaningful things to protect lives. It won't be easy, but I believe in this state, and I believe in our people."
It remains to be seen which initiatives will have enough support to pass the state legislature. House Minority Leader Emilia Storng Sylers (D-Akron) said Democrats are ready to work together on commonsense proposals including universal background checks and red flag protections.
"We're encouraged the governor is finally listening to the vast majority of Ohioans who have said enough is enough, and that now is the time to do something to end gun violence," said Sykes. "...As we review the Governor's proposals, we expect the final products to be meaningful, proactive, and provide Ohioans with the peace of mind that their leaders work for them."
RELATED STORIES:
In Wake Of Dayton Shooting, Ohio Gov. May Push For Red Flag Law Similar To Indiana's