A total of 29 people were killed in two mass shootings in Ohio and Texas during the weekend.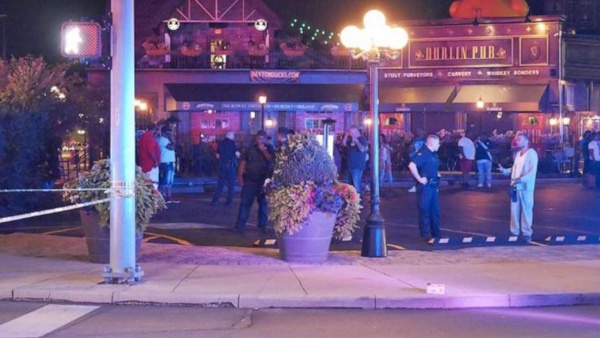 A large police presence stands outside the Dublin Pub in Dayton, Ohio, where a shooting happened in downtown's Oregon District in the early morning hours of Sunday, Aug. 4, 2019. WKEF photo.
(Dayton, Oh.) - Flags across the states of Ohio, Indiana and Kentucky will be lower for the next few days.
This in the wake of shootings in Dayton, Ohio and El Paso, Texas.
Ohio Governor Mike DeWine made the declaration Sunday and was joined by governors in Indiana and Kentucky as well as President Donald Trump. Flags at all government buildings in the state will be lowered. The governors are asking people to do the same with the flags at their homes and businesses.
In Ohio, flags should be flown at half-staff from now until further notice. Indiana's declaration is through sunset on Thursday, August 8.
At least 20 people died when a gunman shot shoppers at an El Paso Walmart on Saturday, while nine were killed outside a bar in Dayton on Sunday.
Police in Dayton are still searching for a motive behind the massacre. The shooter, 24-year-old Connor Betts, arrived at the Oregon Entertainment District with his sister Megan Betts and a companion. At some point, Connor split up from the group and his whereabouts from then until the shooting began remain a mystery.
Surveillance shows him walking from where the group initially parked back to the entertainment district after 1:00 a.m.
He opened fire, killing nine people including his sister. Officers in the area responded quickly and neutralized the shooter within 30 seconds, Dayton Police said.
I commend Dayton Police and other first responders for their bravery and quick response to save lives and bring an end to this tragedy.

I have ordered that flags in Ohio remain at half mast in honor and memory of the victims who lost their lives this morning.

— Governor Mike DeWine (@GovMikeDeWine) August 4, 2019