Goepper has his eyes on the X Games and 2026 Milan Olympics.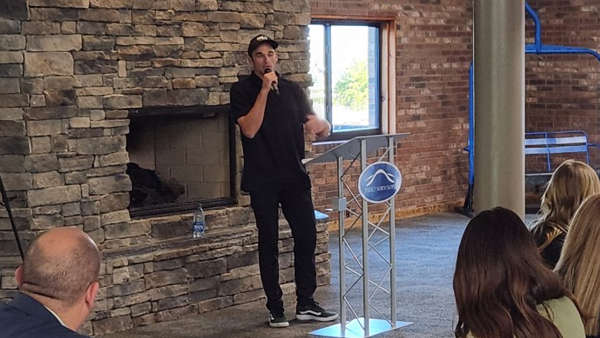 Nick Goepper speaking at the Dearborn County Chamber of Commerce Business Breakfast earlier this year. Photo by Travis Thayer, Eagle Country 99.3.
(Lawrenceburg, Ind.) – Nick Goepper's retirement from competition is over.
The Lawrenceburg native stated, "I'm Back" in a Facebook post on Monday afternoon.
Goepper announced his retirement from full-time competition in January, soon after he took silver in the Slopestyle event at the Sochi Olympics.
In April, Goepper served as the guest speaker at the annual Dearborn County Chamber of Commerce Business Breakfast at Perfect North Slopes. It was then that Goepper revealed to the attendees that the slopestyle event had gotten "repetitive" and that he had a new goal.
That new goal is competing at the Olympics in the Halfpipe discipline. Goepper's aim is to compete in the X Games and the 2026 Milan Olympics.
"It's time for the next chapter, HALFPIPE," said Goepper. "No more retirement, I love this too much. LFG!"
RELATED STORIES
Nick Goepper, Maverick Challenge Honorees Highlight Dearborn Co. Chamber Business Breakfast
Nick Goepper Announces Retirement from Full-Time Competition