A mother of three was killed in Wednesday morning's crash on Richwood Road.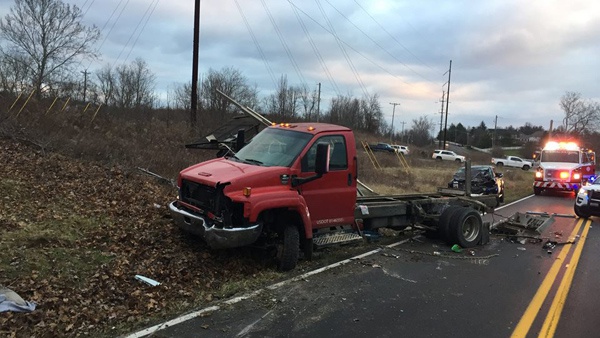 Photo by Boone County Sheriff's Office.
(Boone County, Ky.) - Boone County Sheriff's deputies are investigating a crash that killed a mother of three as she drove her kids to school.
The wreck happened Wednesday morning on the 700 block of Richwood Road in Walton, when the driver of a flatbed truck lost control and crashed into an oncoming 2018 Honda Accord driven by Amy Skiba. As the truck then rotated, its bed was detached from the frame and collided with a 2017 Toyota pickup truck driven by Angela Sulcer.
The driver of the Honda, Amy Skiba of Union, was killed.
Skiba's 12-year-old twins were rushed to St. Elizabeth Hospital with non-life threatening injuries.
The driver of the flatbed truck was Darrin Carroll, 42. He was hospitalized, but his injuries were not life-threatening either.
Sulcer, 53, was not injured.
Skiba, 45, had worked as a guidance counselor at Conner Middle School in Hebron. She recently retired.
The Boone County Sheriff's Office is asking any witnesses to the crash to call with information, (859) 334-2175.
RELATED STORIES: