Chester and Ruth Baylor are memorialized with a new playground where their great grandchildren and others can now play.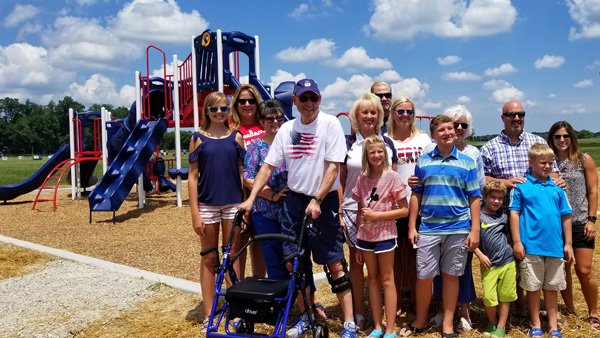 Three generations of the Baylor family celebrated the dedication of the Chester and Ruth Baylor Memorial Playground in Milan on Sunday, July 8. Photo provided.
Milan, Ind.) – A new playground in Milan is dedicated to a couple who were longtime benefactors of the tiny town.
The Milan Park Board, Milan Town Board, and members of the Baylor family marked the dedication of the Chester and Ruth Baylor Memorial Playground on Sunday, July 8 at the Daren Baker Memorial Park.
"The playground is dedicated to Chester and Ruth Baylor in recognition of all they've done for the town of Milan that they loved," says Milan Park Board president Deb Shumate.
Chester Baylor resided in Milan for 97 years of his life, which came to an end with his death on January 24, 2017. After serving in World War II, Chester returned home in 1945 and used savings from his time in the service to purchase a truck. That truck would be the first in a fleet of many to follow as Baylor Trucking is still going strong today.
He married Ruth, a Dillsboro native, who helped run the company in its early days. She died in 2008 at age 87.
The late couple's great grandchildren were among the first to enjoy the new playground during Sunday's ceremony.
The new playground is red, white and blue in color – an homage to the couple's patriotism. They were known for making sure the town had American flags to display along its streets.
No taxpayer dollars were used in the $60,000 playground's construction. It was funded by a donation from the Chester and Ruth Baylor Family Foundation and monies raised by the Milan Park Board.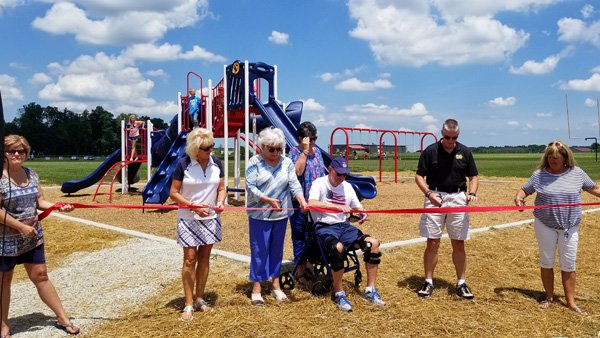 Members of the Baylor family and Milan town and park board members cut the ribbon on the new Chester and Ruth Baylor Memorial Playground. Photo provided.
RELATED STORIES:
Baylor Trucking, Brookville Save-A-Lot Owners Score Longevity Awards
Baylor Trucking Founder, WWII Veteran Chester Baylor Dies