Players from the 1954 championship team will be there. The event is open to the public.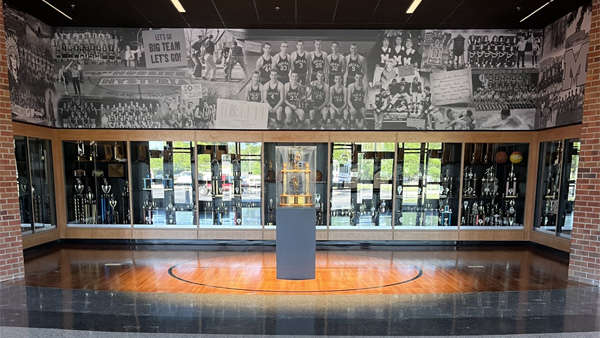 Photo provided.
(Milan, Ind.) - Milan invites the public to the Gym Lobby Dedication on Saturday, June 17, at 1:00 p.m. There will be a program with some of the players from the 1954 championship team speaking. Doors will open at 12:30 p.m.
The lobby, completed in May 2023, was used for graduation ceremonies on May 27. It was part of a larger multi-year building project the school began in 2021 with construction of a new roof, HVAC system, and safe, secure entries. The field turf and a maintenance shop/concession stand was added in the summer of 2022.
The lobby features a large, retro looking trophy room with the 1954 Championship trophy in the center, surrounded by a mural of champions and many trophies from all sports. An expanded concession stand and larger restrooms complete the interior. A centralized ticket booth will allow fans easy entry into the gym. The front sidewalk gathering space has been enlarged to accommodate crowds.
The Poole Group has been the construction managers for all of Milan's recent building projects. Hal Kovert, from Tower Pinkster Architects, is the chief architect. In addition, many local businesses have assisted and will be recognized during the dedication program.
Mike Brandes, Director of Operations for Milan Community School Corporation, has been Milan's project manager for the building renovations.
Currently a weight room is being added to the south side of the lobby area, which will complete the multi-year project.
"We are pleased to open the doors to the lobby for all of our public to see on June 17. We had a nice crowd in attendance for the Open House, and the finishing touches have been added since then," commented Superintendent Jane Rogers.
The Milan '54 Museum will be closed during the dedication ceremony, but will reopen in the afternoon so visitors may visit both facilities.