Four southeastern Indiana counties have enacted restrictions on certain types of outdoor burning as of Wednesday.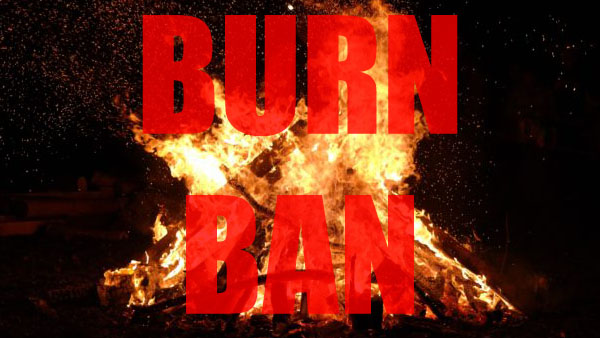 Update published at 3:38 p.m.:
Dearborn County has been added to the list of southeastern Indiana counties under a burn ban.
The Dearborn County Board of Commissioners says the burn ban will be in effect until further notice.
This decision was made due to the continued lack of rainfall, high temperatures, and high humidity. It was felt that these conditions have dried vegetation to the point it may easily combust and thus become a fire hazard.
Per a Dearborn County Ordinance, residents, businesses and any other entity are prohibited from the following activities:
- Campfires and any other form of recreation fire unless said fires are enclosed in a fire ring measuring at least 23 inches in diameter and 10 inches or more in height.
- Open burning of any kind using wood or any other combustible matter, with the exception of cooking grills fueled by charcoal briquettes or propane gas. Charcoal from permitted grills shall not be removed from a grill until charcoal has been thoroughly extinguished.
- Open burning of any kind of debris, such as timber, vegetation, building construction waste or otherwise, with the exception of burning barrels with a 1/4 inch mesh top and said burning shall be permitted from dawn to dusk only.
Any individual or entity found in violation are subject to a fine of $200 to $1,000, plus court costs.
Original story published at 7:20 a.m.:
(Ohio County, Ind.) - With conditions being so dry, a few local counties are putting burn bans in effect.
County commissioners in Franklin, Ohio and Switzerland counties in southeastern Indiana have issued burn bans as of Wednesday morning. An online map of counties with burn bans in place is updated by the Indiana Department of Homeland Security at http://www.in.gov/dhs/burnban/.
While grilling food outdoors is allowed, the orders do restrict residents from most other types of outdoor burning, including campfires not in a fire ring and bonfires. Restrictions could vary by county.
Although conditions are dry, we are not currently in an official drought. The U.S. Drought Monitor does list some portions of southeastern Indiana as being abnormally dry - a designation just below moderate drought.
It is likely the burn bans will remain in effect until some wet weather blesses the tri-state. Looking at the National Weather Service's forecast for the region, little to no rain is expected through at least Tuesday, October 1.