UPDATE: Some Southeastern Indiana REMC and Duke Energy customers should be prepared to go through Friday night without electricity.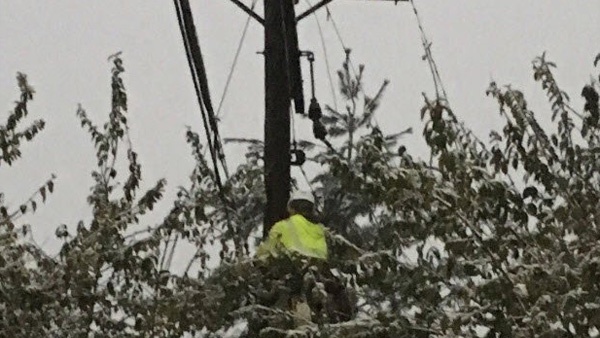 A Duke Energy lineman fixing an electric line Thursday, November 15. Photo courtesy Duke Energy.
Update published at 1:44 p.m.:
Slowly but surely, the power is coming back on to those in Eagle Country without it.
As of noon Friday, Southeastern Indiana REMC reports about 5,000 of its customers are still without service as result of Thursday's ice storm. SEI REMC spokesman Barry Lauber indicated some customers will likely be without power beyond Friday night.
Duke Energy is dealing with about 800 remaining outages in southeastern Indiana, and there are less than 400 outages for Duke Energy customers in the Harrison and Cleves areas.
Duke Energy has provided estimated restoration times for a number of communities. Most customers will have power restored sooner than the times listed. Customers will also receive an updated restoration time for their specific outage as crews respond to restore their service.
Bedford 12 p.m., 11/16
Shelbyville 6 p.m., 11/16
Greensburg 6 p.m., 11/16
Aurora 11:59 p.m., 11/16
Columbus 11:59 p.m., 11/16
Connersville 11:59 p.m., 11/17
Seymour 11:59 p.m., 11/17
Clarksville 6 p.m., 11/18
Corydon 6 p.m., 11/18
Madison 6 p.m., 11/18
Original story published at 7:24 a.m.: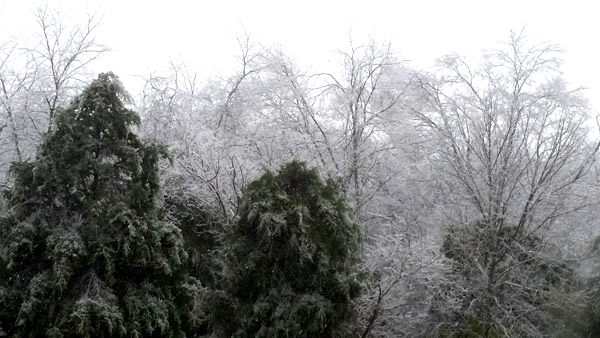 Ice covered trees in Ohio County. Photo by Mike Perleberg, Eagle Country 99.3.
(Lawrenceburg, Ind.) - A day after an ice storm froze Eagle Country, thousands remain without power.
While homeowners worked to remove fallen trees and branches from their yards, line crews worked all day Thursday and through the night to get the lights back on.
"Freezing rain causes more damage to our electrical system than any other form of precipitation. It clings to tree limbs, causing them to lean or fall on power lines. This has caused extensive damage to power lines in certain areas," Duke Energy said in a news release.
As of Friday morning, Southeastern Indiana REMC has just under 6,000 of its customers still without service. That's down from as many as 16,000 Thursday morning.
"We made some progress in the late evening. They are back at it this morning at full force. We're getting help from crews around the state," says SEI REMC spokesman Barry Lauder.
Additional crews from six different Indiana electric cooperatives are chipping in on the local restoration effort by SEI REMC.
Duke Energy is dealing with about 1,600 remaining outages in southeastern Indiana, plus about 800 in the Harrison and Cleves areas.
It could be well into the weekend before all customers have service again.
"We still have trees across conductors. Yesterday, the problem was that we spent most of the day cutting and putting back up only to have more trees fall where we had just been. It's frustrating for our customers and our members to get lights back on for an hour, we move out of the area, and then the lights go back out," says Lauber.
"We will not go away. We're going to be here until midnight tonight and first thing (Saturday) morning with anything that is not restored."
Motorists are asked to be cautions when driving near line crews. Citizens should also stay clear of any downed power lines and refrain from attempting to remove broken limbs or fallen trees that may be near or touching electric lines.
Last night, warming shelters for folks without electric were set up at the Aurora Fire Department and the Switzerland County TEC Center in Vevay. The City of Harrison and Harrison Township also established a shelter at the Harrison Community Center on George Street.
Those shelters could be open again Friday night to those who need a warm place to stay until the power is restored. None of the shelters have announced plans for Friday night yet, but Eagle Country 99.3 will share that information if they do.
Some slightly warmer weather Friday should help melt off what remains of the ice. The National Weather Service says we'll see some sun and get to a high in the low 40s.
Southeastern Indiana REMC customers can track and report outages at http://www.seiremc.com/content/outage-center. Duke Energy has an outage map available for Indiana, Ohio and Kentucky at https://www.duke-energy.com/outages/current-outages.