Deputy Derek Stevens was fortunate to escape injury after a large tree branch crashed down onto his police vehicle Thursday.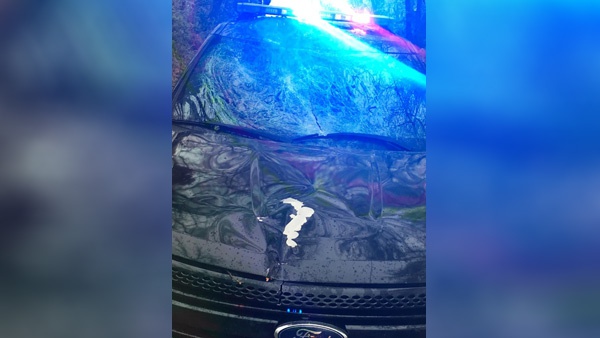 Photo provided.
(Dearborn County, Ind.) – A Dearborn County Sheriff's deputy was fortunate to walk away after a tree branch fell onto his police SUV.
Freezing rain turning into an ice coat of about a third of an inch brought down countless trees and power lines across the tri-state Thursday morning.
Deputy Derek Stevens had a very close encounter with one of those tree branches. He was driving on Rummel Road around 7:00 a.m. when a large branch fell through the windshield and roof of the 2013 Ford Interceptor Utility.
"I was kind of shocked. You don't drive down the road expecting to be hit by a tree branch," he says.
Stevens was not injured. An ambulance did respond to help ensure any of the shattered windshield glass was not left on him.
The police vehicle, however, is likely a total loss. The branch was a large one about six to eight inches in diameter, according to Stevens.
Indiana State Police investigated the incident.