Republican candidate for mayor Steve Linkmeyer's "Safe Water Plan" includes the creation of a 660-acre reservoir.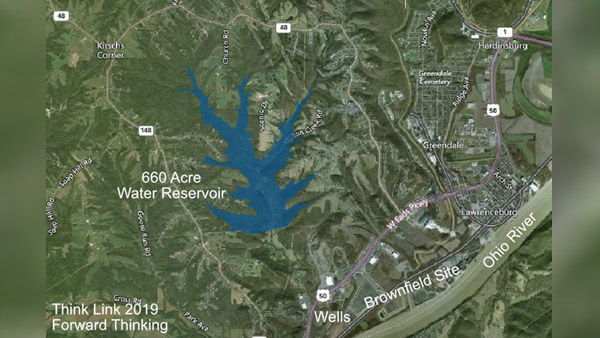 Image via Steve Linkmeyer for Mayor of Lawrenceburg, Facebook.
(Lawrenceburg, Ind.) – Call it crazy or call it bold. A Lawrenceburg mayoral candidate's proposal to create a new manmade lake in Dearborn County has gotten people talking.
Steve Linkmeyer is running for the Republican mayoral nomination in the May primary. The businessman and former city councilman Mike Lawrence are challenging incumbent mayor Kelly Mollaun on the May 7 ballot.
On Sunday, Linkmeyer revealed on his campaign's Facebook page what he calls a "Safe Water Plan." It includes creating a massive new reservoir by damming Wilson Creek on Ludlow Hill between state highways 48 and 148.
Linkmeyer says it would create a safe, new drinking water source away from old fly ash landfills.
As Eagle Country 99.3 has detailed in previous reports, millions of tons of coal combustion residual threaten the aquifer beneath and near the former Tanners Creek Power Plant site. Public drinking water wells belonging to Aurora Utilities and Lawrenceburg-Manchester-Sparta Conservancy are considered to be at higher risk from potential groundwater contamination than Lawrenceburg Municipal Utilities' wells.
"One way to solve the water issue once and for all is to designate or create a new water source. I propose that a reservoir be built to serve our community with fresh, safe water away from the contaminated AEP site," Linkmeyer wrote.
The mayoral candidate says the new, 660-acre reservoir would create 18 miles of shoreline, be an economic boon, and provide recreational tourism.
"A preliminary cost estimate for this reservoir project would be between 40 and 50 million dollars, or the cost of one (Lawrenceburg Event Center). I'm not proposing that Lawrenceburg pay for this project, I believe there could be state or federal funds available for this but you really can't put a value on human lives," Linkmeyer stated.
By comparison, nearby Hidden Valley Lake is about 150 acres. Brookville Lake in Franklin and Union counties is 11,000 acres.
The reservoir is not the first buzzworthy idea put forth by Linkmeyer, who has been running on a platform of economic development in the city. Last week, he shared ideas for creating new roads to serve as truck routes to and from the proposed Fourth Port on the Ohio River at Tanners Creek.
According to a map posted on his campaign page, one truck route would extend Industrial Drive along Tanners Creek to connect with State Road 1 on the north end of Greendale. Another truck route would pass through downtown Lawrenceburg, through the Lawrenceburg Community Schools campus, and a new connector road below Greendale's Ridge avenue up to State Road 1-Bellview Drive.
Linkmeyer's mayoral campaign has been dogged, however, by more than $3 million he and his business partner owe to the City of Lawrenceburg for a loan attached to a 2009 development agreement gone bad. Last month, the Indiana Court of Appeals ruled in favor of the city, upholding a local judge's summary judgment against Linkmeyer.
Some citizens have raised questions whether Linkmeyer's large debt to the city would present a conflict if he were elected mayor.
RELATED STORIES:
Will Tanners Creek Fly Ash Stay Or Go? Revised Closure Plan Doesn't Satisfy Environmental Watchdog
Geoscientist Hired By City Utility Finds No Fly Ash Risk To Lawrenceburg Water Supply
Ind. Court Of Appeals May Have Just Ended Linkmeyer Development v. City Of Lawrenceburg
Mayor Candidate Linkmeyer, Business Partner Suing City Attorney For Alleged Defamation
Court Order Allows L'burg To Get Loan Repayment From Mayor Candidate Linkmeyer, Partner
L'burg Council Narrowly Shoots Down Developer's Proposal
L'burg May Look Past Lawsuit To Drive Current, Future Economic Development
Laborers' Lawsuit Against Construction Company Granted Class Status