The city has been attempting to recoup a $3 million loan owed by Steve Linkmeyer since the city won a judgement against him and business partner Brian Bischoff last May.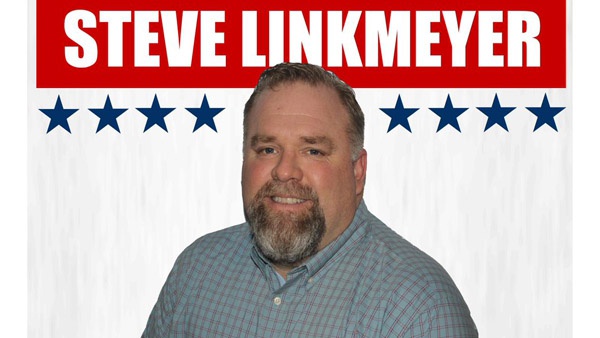 Steve Linkmeyer is running for the Republican nomination for Mayor of Lawrenceburg in the May 2019 primary election. Image via ThinkLink2019, Twitter.
(Lawrenceburg, Ind.) - A candidate for mayor of Lawrenceburg is deeply in debt to the city he hopes to soon lead.
Steve Linkmeyer is a local businessman running against incumbent mayor Kelly Mollaun and former city council member Mike Lawrence in the May 2019 GOP primary election.
He has been suing the city since 2015 seeking damages against the city for breaking a development agreement when it loaned his company, Linkmeyer Development, $3 million to fill and level three tracts of land covering 103 acres. The large city loan of taxpayer funds was made in 2009 by then-mayor Bill Cunningham's administration.
However, the city failed to run utilities to the Waterview Apartments development on Sycamore Estates Drive and Florence Drive. Linkmeyer has blamed politics involving the administration of the following mayor, Dennis Carr, for causing his company to default on the loan when the city breached the utility agreement. No utilities essentially stopped the development in its tracks and made it perhaps impossible for Linkmeyer to repay the massive amount of money borrowed from the city.
Linkmeyer was the plaintiff who filed the lawsuit in Dearborn Circuit Court seeking damages from Lawrenceburg. The city made a successful counter claim and was awarded summary judgment against Linkmeyer and his business partner, Brian Bischoff, in May of 2018. The judgment they must come up with totals $3.174 million, plus interest.
The city is now attempting to recoup that money. A significant step toward that goal was reached last week when Judge James D. Humphrey issued a charging order, finding that the city can receive damages from each of 21 limited liability companies which Linkmeyer and Bischoff have ownership interest in.
"The City of Lawrenceburg is granted all rights of an assignee of Plaintiff's membership interest in each of the Companies, which shall include, but not be limited to, all rights to receive dividends or distributions from each of the Companies," Humphrey wrote in his February 4 order.
The "dividends and distributions" will be placed in an interest-bearing escrow account. The city will have to make a request to the court for any distribution, a process which will continue until the judgment is paid in full or the court changes the order.
"They have been hiding their assets from the many people and businesses they have defrauded, as well as the city," Lawrenceburg City Attorney Del Weldon said of the charging order. "This moves us a step closer to recovering over $3 million they owe the citizens of Lawrenceburg."
In January, an attorney for Linkmeyer and Bischoff filed an objection to the city's charging order motion. Penny L. Carey with Carey Law Office of Lebanon, Indiana argued that the matter is currently on appeal and the subject property of the foreclosure has not been sold, so its deficiency amount has not been determined. Additionally, Carey said that Bischoff's LLCs are subject to prior secured liens which must be paid before Lawrenceburg could receive any income or distribution.
Linkmeyer, Bischoff, and Linkmeyer Development II, LLC are also in the midst of fighting a lawsuit filed by six former employees who worked for the company as it carried out responsibilities from the 2009 development agreement with the city. The employees, previously granted class status in 2015, have argued that they should have been paid a prevailing wage because the agreement incorporated the city's prevailing wage ordinance.
On February 8, the Indiana Court of Appeals issued a ruling that the county court was correct in 2017 when it denied both the class and defendants' respective motions for summary judgment. The ruling means the case will drag on further in Dearborn County.
Citing the advice of his legal counsel, Linkmeyer is not commenting on the lawsuits. He did, however, share a statement with Eagle Country 99.3 concerning his candidacy for mayor:
"I would like to add, I have taken risks to create jobs and improve my community. I should point out that these risks have worked to create development opportunities where they previously did not exist. My actions have created jobs that previously didn't exist. Jobs that provide for families. I believe in second chances. I often employed people who were on work release or had just got out of jail to give them a second chance. I have lived here all my life and I want this community to continue to be a great place to grow up and raise a family. I have been and am committed to improving this community, to help create economic opportunities for our citizens, to help create educational opportunities for our children and to keep our families community safe. More importantly, I am the only candidate with the battle scars and the knowledge to get it done."
The Linkmeyer Development loan was among many City of Lawrenceburg loans profiled in a series of reports by Fox 19 in 2015. It now remains among the few loans still outstanding. Mayor Kelly Mollaun's administration has seen $3.9 million in city loans fully paid off by various other borrowers since Mollaun took office in 2016.
In 2017, Lawrenceburg City Council narrowly voted to decline a proposal from Linkmeyer which would have allowed him to make the city whole by selling newly-filled land along Tanners Creek Drive to the city for just $1 even though he estimated its potential value at around $2 million. The area from which the fill dirt was removed would have been flattened out for construction of a new warehouse needed by Proximo Distillers.
RELATED STORIES:
L'burg Council Narrowly Shoots Down Developer's Proposal
L'burg May Look Past Lawsuit To Drive Current, Future Economic Development
Laborers' Lawsuit Against Construction Company Granted Class Status