The groundbreaking took place almost five years to the day the idea was first pitched at a Greendale Board Meeting.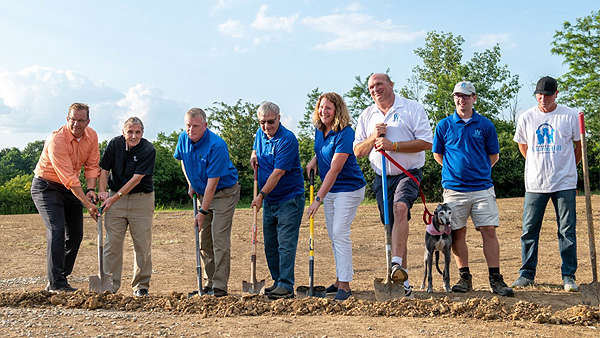 Photo by Waltz Photography.
(Greendale, Ind.) - It has been years in the making, but Friends of Lauren Hill Park will open to community members in the near future.
A groundbreaking ceremony was held Monday evening at the site of Friends of Lauren Hill (FOLH) Memorial Park. Located at the top of Georgetown Road, just across from the 11th fairway at Hidden Valley Golf Club, the park will benefit area dog owners, bike enthusiasts and citizens - while paying homage to its namesake Lauren Hill and the individual who had a vision for the park.
The vision for the park was first thought of by the late Tom Biedenharn, who enlisted the help of recent Elder High School graduate Adam Duwel to bring the park to fruition.
"This all wouldn't be possible without Tom," said Duwel. "He kind of roped me into this day one. He's been always there with us in spirit throughout this whole thing. Each time we are at a crossroads it was like well Tom kind of had this idea, this is kind of what Tom wanted. It's Tom's project. He's up with Lauren I guess kind of coaching us along. None of this would be happening without Tom's passion and hunger to get this going."
The groundbreaking ceremony was held almost five years to the date that Tom and Adam first discussed their ideas for the park at a Greendale Board Meeting.
"It's been a longtime coming. It's something I've dreamed about for awhile now," said Duwel. "Growing up in the area and going by the property and not realizing what the potential could be and see it finally happen. Its been a heck of a journey. There were doubts, but by the grace of God it's happening."
Friends of Lauren Hill has been granted a 15-year land lease from the City of Greendale. FOLH will be responsible for maintenance, management, and future development of the park.
The first phase of the park will include a parking lot and dog park. Duwel expects both to be fully operational this fall. Future plans include additional recreational areas such as bike trails, basketball courts, and disc golf. Additional funding will determine if and when those additions come.
"This is the first leg. This is not a one and done project. It's multiple phases, so really we are just getting started," added Duwel.
Duwel says there have been discussions about creating some type of memorial that would honor Lauren and tell her story. It's unknown when it might happen, but it is in the works.
"It's up to us to kind of remember her and continue her legacy. The community is all in on it," said Duwel. "They have been in on it since the get go because again they know that Lauren's message and life story needs to be shared for the rest of time."
Duwel added that he would be remissive if there was not an ode to Tom in the park.
"That's a big part of the plan."
For more information and updates about the park, visit (1) Friends of Lauren Hill Memorial Park | Facebook or Friends of Lauren Hill Memorial Park – Greendale, IN.
RELATED STORIES
Friends Of Lauren Hill Get Go Ahead To Build Memorial Park
AUDIO: Friends Of Lauren Hill Work To Make Memorial Park A Reality
HVL Town Hall Meeting To Discuss Lauren Hill Memorial Park