Road construction projects and consistently heavy traffic have officials thinking about creating additional roads.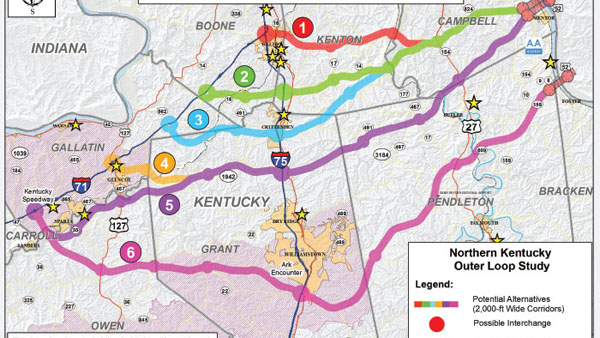 Photo by the Kentucky Transportation Cabinet.
(Boone County, Ky.) – Routinely heavy traffic and road construction in northern Kentucky has transportation officials thinking about potential alternatives for new transportation connections.
The Kentucky Transportation Cabinet has launched a new website to gather public comment about an outer loop around northern Kentucky.
The outer loop would provide alternative routes for drivers in the southern portions of Boone, Kenton and Campbell counties, as well as the northern portions of Gallatin, Owen, Grant, Pendleton and Bracken counties.
Transportation officials say the outer loop would specifically focus on east and west alternatives that connect drivers to Interstate 71 and the AA Highway.
The KYTC says its development process will include five stages: planning, preliminary engineering and environmental evaluation, design, right of way and utility coordination, and construction.
The public will play a critical role throughout the project development process by providing feedback that helps inform decision making throughout the entire process.
Comments and questions about the study can be shared at info@NKYOuterLoopStudy.org.