House Speaker Brian Bosma is refuting the allegations published Wednesday by The Indianapolis Star.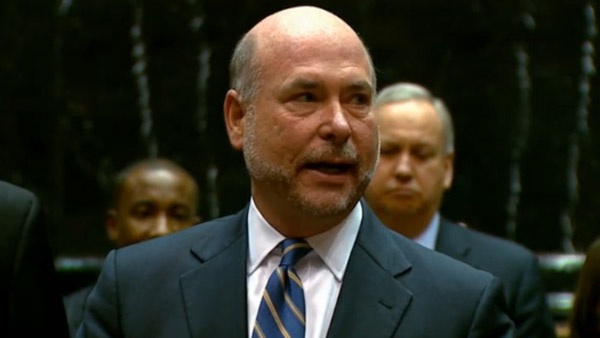 Indiana House Speaker Brian Bosma (R-Indianapolis)
(Indianapolis, Ind.) - A former statehouse intern says Indiana House Speaker Brian Bosma tried to intimidate her over a sexual encounter claim.
The report by The Indianapolis Star comes as Bosma works on the first-ever sexual harassment policy for state lawmakers, and after he investigated groping claims against Indiana Attorney General Curtis Hill.
The woman was 20-years-old at the time of the alleged act in 1992. Bosma was married.
She is not accusing Bosma of a crime. Instead, she says he paid a law firm $40,000 to gather unfavorable information about her, then threatened to reveal it if she went public.
Bosma, a Republican from Indianapolis, released a statement responding to the Indy Star report.
"This unsubstantiated story from over 26 years ago is unequivocally false. It wasn't true then and it's not true now. The source of this claim has been entirely discredited on several occasions and no responsible journalist would publish it. My engagement of Linda Pence, a well-respected attorney and Democrat, was for the purpose of protecting my reputation from a false story by the Indianapolis Star."
Bosma supported an investigation of Curtis Hill this past summer after four women brought forth sexual assault allegations against him. Hill has vehemently denied the allegations and has resisted calls to resign from office.
Now, Indiana Democratic Party Chairman John Zody is calling on Governor Eric Holcomb to bring "an exhaustive, impartial investigation into this serious allegation of intimidation" against Bosma.
"We believe that Speaker Bosma's actions appear to be tactics used to intimidate. That women must fear coercion and strong-arming by powerful elected officials to discredit and deter them from coming forward is sickening. If the allegations of intimidation are true, they are deeply troubling. What's clear is there are more questions than answers here. In the past, Governor Holcomb has rightfully supported a 'thorough' investigation into similar matters," Zody said Wednesday.
RELATED STORIES:
Curtis Hill Challenges Special Investigation Into Sexual Harassment Claims