Nearly 40 percent of all Hoosier college students graduated on time.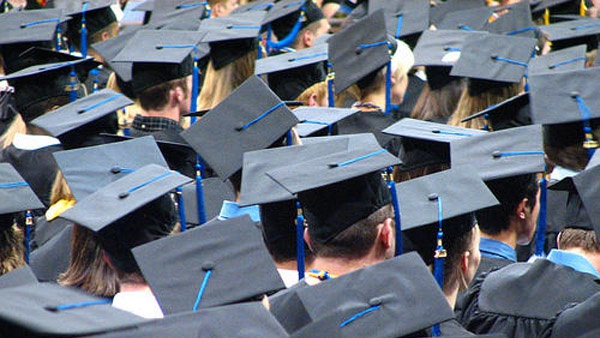 (Indianapolis, Ind.) - Indiana's college graduation rate has reached an all-time high.
Nearly 40 percent of all Hoosier college students graduated on time, according to the 2018 College Completion Report released Monday by the Indiana Commission for Higher Education. That's an increase of about 14 percent over the past five years, and four percentage points better than last year.
The number of students getting their degree in more than four years has reached 60 percent – up 2.8 percentage points in the last five years and five percentage points better than the previous year.
"It is encouraging to see Indiana's significant progress in moving the needle on college completion," said Indiana Commissioner of Higher Education Teresa Lubbers. "These successes are a direct reflection of the hard work happening at public campuses across the state, as well as the support of the General Assembly."
The commission has a goal of a 60 percent higher education attainment rate by 2025. Helping the state get there is the 21st Century Scholars program.
On-time graduation rates for 21st Century Scholars are improving at a greater rate than all other student populations. The commission attributes the improvement largely toward state financial aid reform enacted by Indiana lawmakers in 2013, which required students to complete at least 30 credit hours each calendar year to stay on track for on-time graduation. Since then, the on-time graduation rate for Scholars has improved by 13.8 percentage points.
"By every measure, 21st Century Scholars are improving and making measurable gains toward closing Indiana's college graduation achievement gap," said Lubbers. "While the Scholar Success Program requirements have only been in place for a short time, I believe they are already making a significant difference and will continue to show that the Scholars program is an investment worth making for the state."
The full 2018 College Completion Report is available here.