Indiana saw a 28 percent increase in home health care workers between 2018 and 2019.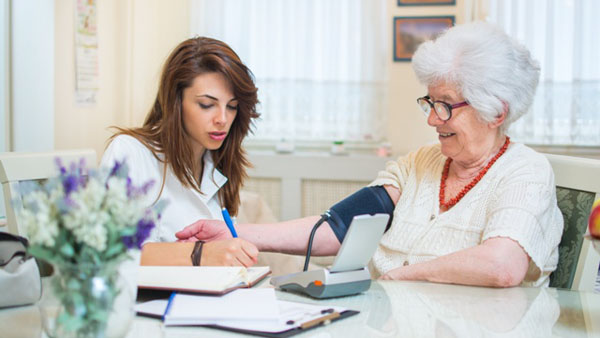 Adobe Stock photo.
(Indianapolis, Ind.) - While the overall health of older Hoosiers is improving, a new report reveals Indiana still has a ways to go when it comes to the physical and mental well-being of those age 60-plus.
Indiana is 36th in the America's Health Rankings' "2019 Senior Report", up from 39th in 2018.
One key area of improvement is access to home-based care and support services, which Dr. Rhonda Randall, executive vice president and chief medical officer at United Healthcare, says is an encouraging trend that may help more older adults age at home.
In Indiana there was a 28 percent increase in home health care workers between 2018 and 2019, compared to a 21 percent increase nationally.
"Individuals who could be receiving their care in a less restrictive setting than nursing homes are more likely to do so in the state of Indiana than in most other states," Randall states.
Indiana also fared well in the report in terms of low-care nursing home residents, seniors living in poverty, and prescription drug coverage.
However, there are still troubling health trends for older adults, says Randall, including a 66 percent increase in depression and a 25 percent increase in obesity.
Nutrition and hunger also are problem areas for the 60-plus crowd.
Randall explains Indiana ranks 35th for food insecurity, 45th for Supplemental Nutrition Assistance Program (SNAP) outreach, and 49th for the use of home-delivered meals.
"Well one of the things that we know is important to help seniors live longer in their homes are home and community based services, and home-delivered meals is one of those important measures," she states.
The number of older Americans has increased by 45 percent since 2000.
Randall points out as a large swath of the population ages, looking at the issues that most affect seniors is critical for health care providers, families and caregivers.
"There's been a significant demographic shift in the United States," she points out. "There's more than 50 million seniors living in the United States.
"And so, as that population grows, it really makes us want to take a deeper look into the behaviors that individual seniors are engaged in, in the community."
Indiana also scored towards the bottom of states for the percentage of able-bodied adults age 65 and older, as well as early death among those ages 65 to 74.