The annual fall festival takes place September 16-17.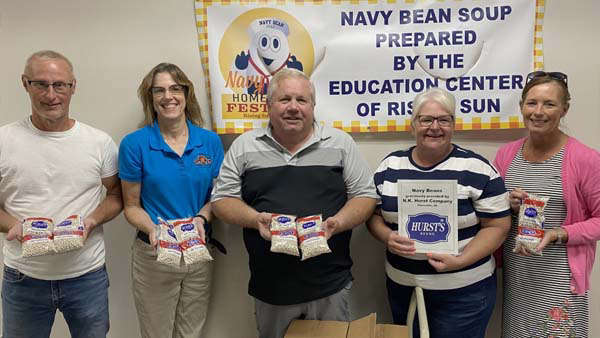 L-R: Mike Northcutt, City of Rising Sun, Project Manager & Navy Bean Fall Festival Co-Coordinator; Kendal Miller, Ohio County Tourism, Executive Director; Jim McDaniel, Ohio County Tourism, Board President; Debbie Thomason, Director of the Education Center of Rising Sun; and Jane Angst, Ohio County Community Foundation, Executive Director are shown with the Navy Beans provided by N.K. Hurst Company of Zionsville, IN. Photo provided.

(Rising Sun, Ind.) - N.K. Hurst Beans of Zionsville, IN, has generously donated the navy beans for the 35th annual Navy Bean Fall Festival. The event takes place on Fri. & Sat., Sept. 16-17 in downtown Rising Sun.

"We're so appreciative of Hurst's generosity and ongoing support of Rising Sun's Navy Bean Fall Festival. They've been so good to us," said Kendal Miller, executive director of Ohio County Tourism, Inc.

Miller had been unaware that the 75-year-old family-owned Hurst Beans Company was located in Indiana—nor was the business familiar with a festival that paid homage to navy beans. It was while attending a media function in Indianapolis several years ago that a travel writer had shared the connection.

After approaching Jim Hurst, VP of the N.K. Hurst Company, about a possible sponsorship, Miller was directed to Nancy Maschmeyer, a Hurst Division Manager.

"When Nancy and I first talked, I learned that she was originally from Switzerland County and currently has family in Ripley County. She had moved from the area before the Navy Bean Festival had originated 35 years ago," said Miller.

Spearheaded by the City of Rising Sun this year, the Navy Bean Fall Festival utilizes local sponsors, organizations, and volunteers, along with City staff and other resources to help present the event.

Debbie Thomason, director of the Education Center of Rising Sun, will be cooking the beans with the help of her students. The Education Center is an initiative of the Ohio County Community Foundation.

Ohio County Tourism, Inc. provided a marketing grant and billboard, and assists in helping to get the word out about the Fall Festival.

The Navy Bean Fall Festival will open Friday, September 16 from 3:30pm-10:00 p.m. and Saturday, September 17 from noon-10:00 p.m. The traditional Navy Bean parade will take place on Saturday morning at 10:30 a.m.

The event features vendors, food, costumed characters, amusement rides, navy beans & cornbread and live bands along the riverfront.

For more information, contact Jenn at City Hall at (812) 438-2407. Information can also be found at cityofrisingsun.com and enjoyrisingsun.com

Info on lodging, eateries, shops, attractions, and events can be found on the enjoyrisingsun.com website, the Rising Sun-Ohio County Tourism Facebook page, or by e-mailing kendal@enjoyrisingsun.com at the Ohio County Tourism Visitors Center.