UPDATE: A semi crash has been cleared, but motorists should expect delays on I-74 Eastbound well into Tuesday afternoon.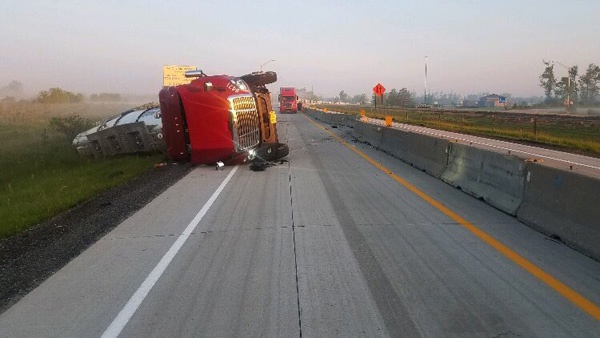 Photo by Indiana State Police
Update published at 11:28 a.m.:
Interstate 74 is open again, but it may take hours to flush backed-up traffic through near Batesville.
A tanker truck overturned on I-74 Eastbound Tuesday morning, totally blocking the one lane in the construction zone just east of Batesville.
The scene has been cleared, dispatchers say. However, the residual traffic backup on I-74 Eastbound may take hours to clear.
An alternate route, State Road 46, is also slow due to increased traffic volume from motorists looking to avoid the mess on I-74.
Update published at 9:05 a.m.:
Interstate 74 Eastbound remains closed at the scene of an overturned tanker truck Tuesday morning.
The tanker overturned in the single lane of I-74 Eastbound in the construction zone just east of Batesville. No eastbound traffic is able to get through.
Indiana State Police say the truck collided with the concrete barrier separating eastbound and westbound traffic. The damaged barrier has also caused I-74 westbound to be slowed.
Traffic is being diverted to exit I-74 at Batesville. State Road 46 is the detour, but is also experiencing a backup due to traffic volume, motorists tell Eagle Country 99.3.
Original story published at 6:25 a.m.:
(Batesville, Ind.) - A crash has closed Interstate 74 near Batesville.
The crash involving an overturned semi occurred Tuesday morning on Interstate 74 Eastbound at mile marker 152, which is just east of Batesville.
The eastbound lanes of the interstate may be closed until at least 8:00 a.m. Motorists on I-74 are being detoured using State Road 46.
Listen to Eagle Country 99.3 or follow us on Twitter @eagle993 for the latest in local traffic.
Overturned semi has I-74 Eastbound shut down near 152 mile marker in Ripley County. Eastbound traffic is being diverted to SR 46 at the Batesville exit (149).

Westbound lanes were closed temporarily for barrier wall repair.

Unknown how long Eastbound will be closed. pic.twitter.com/rdSIuW6CPX

— Sgt. Stephen Wheeles (@ISPVersailles) May 14, 2019