The budget includes half a billion dollars in new funding for the Indiana Department of Child Services.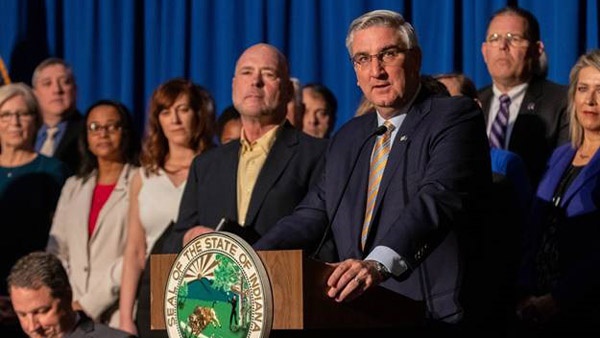 Indiana Governor Eric Holcomb signed the state's new biennial budget on Monday, April 29. Photo via Office of Indiana Governor Eric Holcomb.
(Indianapolis, Ind.) - Indiana's new state budget increases funding to the Indiana Department of Child Services by $500 million over the next two years.
The $34 billion budget bill was signed into law Monday by Governor Eric Holcomb. The state budget plan approved by party-line votes in the House and Senate last week projects about $2 billion in reserves.
"Hoosiers will benefit from the legislation advanced by our Next Level agenda, including a balanced budget, increasing funding for education and improving school safety," Holcomb said. "We made these achievements while maintaining responsible reserves and our AAA credit ratings. I applaud lawmakers for completing another productive legislative session."
The new DCS funding will help the agency keep new caseworkers hired with a temporary funding boost by Holcomb in 2018. An independent review of the agency identified workloads for caseworkers, largely blamed on an increase in abused and neglected children largely attributed to the drug abuse epidemic.
It also provides $763 million in new money for K-12 education. GOP lawmakers hope that paying down more than $140 million in schools' pension liability will allow school districts to direct more money toward teacher pay raises. The budget also includes $75 million more for programs like teacher appreciations grants, English as a second language, and a school safety grant program.
Indiana House Speaker Brian Bosma (R-Indianapolis) said the budget creates opportunities for experienced teachers to earn more by taking on additional responsibilities in the classroom.
"While teacher pay decisions are best left to local schools, our efforts to drive more dollars to the classroom through a record investment in education will be a boon for students and teachers alike," Bosma said.
But Democratic Senate Minority Leader Tim Lanane (D-Anderson) said the budget does not ensure teachers will receive a pay increase, something members of his party had demanded.
"We had the opportunity to make that happen this year and the Republican supermajority neglected to act," Lanane said.
In February, Holcomb announced the formation of the Next Level Teacher Compensation Commission to look at long-term solutions for making Indiana teachers' salaries more competitive with surrounding states. The commission's recommendations are due to lawmakers ahead of the 2021 legislative session, when the next budget will be passed.
The $2 billion in cash reserves accounts for about 11.5 percent of state spending.
"Balanced budgets are required, but artificially bloated reserves that come at the expense of so many important programs, organizations and people are contrary to the state's primary goal of meeting the needs of its citizens," said Lanane.
RELATED STORIES:
Agreed Indiana Budget Bill Includes 2.5% Increase For K-12 Education
Senate Budget Boosts Education, But Republicans Defeat Dems' Guaranteed Teacher Raises
Raatz's Teacher Pay Bill Has Bipartisan Support
House Budget: More Money For Indiana Schools; No Teacher Raise
Governor's Budget Proposal Allots More For DCS, Education; Is It Enough?