The Greendale Heroes Memorial should be completed at Cook Park by Veterans Day.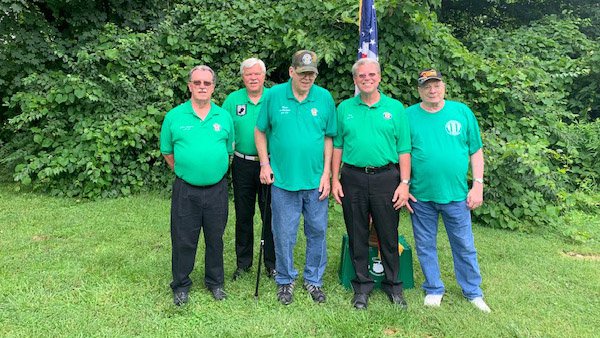 (Left to right) Vietnam veterans Ebbie Roberts, PG Gentrup, Mike LaFollette, Tim Albright and Rick Sommer. Roberts and Sommer received the Purple Heart in Vietnam. Albright received two and LaFollette earned three. Photo provided.
(Greendale, Ind.) - The groundbreaking took place at Cook Park, located on Ridge Avenue in Greendale, on Monday, June 17, 2019 for the new monuments and memorial dedicated to firefighters, veterans, EMS personnel, first responders and police officers.
This will be a lasting tribute to those who have served our community for generations to come.
Mayor Alan Weiss opened the ceremony by speaking to the crowd about how much this will mean to Greendale and thanked those who have been heavily involved in this process. PG Gentrup followed with a talk about what this memorial means to those being honored but also to the families and friends who appreciate all they have done to protect our citizens.
Gerry Jonas, Bob Hrezo and Chad Kraemer were there representing the contractors who will be doing the construction.
It is scheduled to be completed in time to have a dedication the weekend of Veterans Day this year.
The public will be invited to attend the dedication and they may also purchase individual bricks, at $45 per brick, to pay tribute to a friend or loved one. The bricks will be in front of the memorial which will have three flag poles behind it. Each brick contains three lines to print information on. You may contact the Greendale City Office if you would like to purchase a brick.
The design was created by Gerry Jonas, from Jonas Memorials in Harrison. Gerry has been involved with several memorials to our veterans, firefighters and EMS personnel in the tri-state area.
Construction is scheduled to start immediately and plans and designs will be published for the public soon.
RELATED STORIES: