Mayor Alan Weiss says city council has approved funding for a new Heroes Memorial along Ridge Avenue.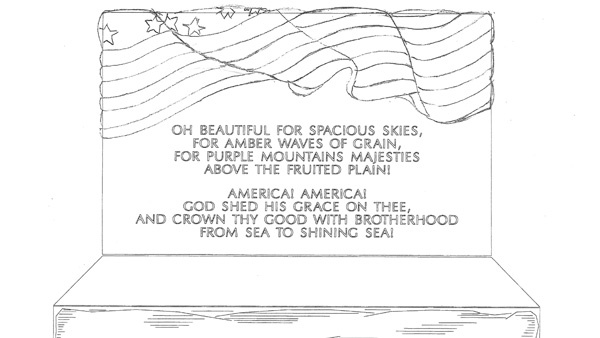 A sketch of the stone memorial which will be part of the planned Heroes Memorial in Greendale. Image provided.
(Greendale, Ind.) - A new monument honoring veterans is going to be built in Greendale.
Mayor Alan Weiss says the city council has approved funding for the Heroes Memorial. It will be built at Cook Park along Ridge Avenue.
"I think this is something that people will be proud of," the mayor says.
The roughly $150,000 memorial has been designed by Jonas Memorial Arts of West Harrison. Features include three stone pillars, each honoring veterans, police, and fire and EMS. Three flag poles will fly the U.S.A. and Indiana flags, Prisoner of War flag, and Purple Heart flag. A stone near the center of the memorial will appear to have an American flag draped over it. Stone benches, nighttime lighting, and a small off-street parking area are also part of the memorial.
Engraved paver bricks will be sold for donations to the memorial. Details on pricing and how citizens can purchase a paver will be coming in the next few weeks.
The Heroes Memorial could be completed by Veterans Day in November.
The mayor says the location of the memorial at Cook Park is important, as hundreds of people who drive on Ridge Avenue each day will see it.
The mayor thanked those who have worked with the city to make the memorial project happen, including local veterans, Greendale City Council, Greendale Police Chief Dewayne Uhlman, Greendale Fire Department Chief Shannon Craig, EMS Captain Tommy Craig, and Hrezo Engineering.
"If I had to say what is my biggest achievement as mayor, this is it," says Weiss, a former volunteer firefighter.