The camp included games of Quidditch, relay races, and scavenger hunts.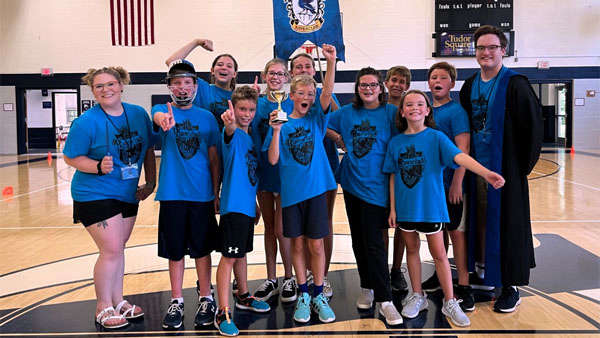 Photo provided.
(Ripley County, Ind.) - Camp Hogwarts took place at Oldenburg Academy this past week as part of Genesis: Pathways to Success' initiative, A Summer of STREAM (Science, Technology, Reading, Engineering, Art, & Mathematics). The camp impacted 40 students who share a fascination for Harry Potter, a series of seven fictional novels, written by J.K. Rowling, that chronicles the life of a young wizard.
"The part of this camp that makes it so unique is that we take a creative, fun interest that many children have and find a way to tie it into STREAM-related concepts," stated Clarice Patterson, Director of Genesis: Pathways to Success. Patterson further stated, "As a result, soft skills such as teamwork, problem-solving, critical thinking, and creativity play an imperative role in each experiential learning activity that students partake in."
Students attended numerous magical courses, related to STREAM, throughout the duration of camp. For example, in Potions Class, led by Emili Uden of Kids Discovery Factory, students conducted science experiments that taught them about density, in addition to how to perform precise measurements. During Transfiguration Class, the students used playdough to creatively form different artistic shapes of various objects.
Ripley County Community Foundation Intern, Riley Schebler, said, "The best part of camp was having the opportunity to coach and referee Quidditch, the sport played in Harry Potter. Quidditch essentially is the concept of soccer, but with the use of dodgeballs and a frisbee." Schebler continued, "Seeing the kids work together as a team with a healthy competitive nature was so much fun!"
Students played Quidditch each day of camp as a recreational activity and team-building exercise to promote physical fitness and further develop collaboration skills amongst students. Additional activities, such as relay races and scavenger hunts, promoted critical thinking and problem-solving skills. Students worked with their team, or Houses, in order to decipher clues and complete Harry Potter-themed tasks in a timely manner. Houses included Gryffindor, Hufflepuff, Ravenclaw, and Slytherin.
Patterson also said, "There is nothing more rewarding than seeing every single student come and leave camp with the biggest smile. Their smile indicates how much fun they truly had. Camp Hogwarts was a perfect way to conclude A Summer of STREAM."
Genesis: Pathways to Success would like to extend a special thank you to the Batesville McDonald's for providing lunch one day of camp and to Kids Discovery Factory for providing some camp supplies. As a result, Camp Hogwarts was very successful.
To learn more information about this summer program or if you have any questions, please contact Clarice Patterson by emailing cpatterson@genesisp2s.org, calling 812-933-1098, visiting www.genesisp2s.org, or stopping by the office at 13 E. George Street, Suite B, Batesville, IN, 47006.