Monetary donations are being accepted for a two-week period beginning today.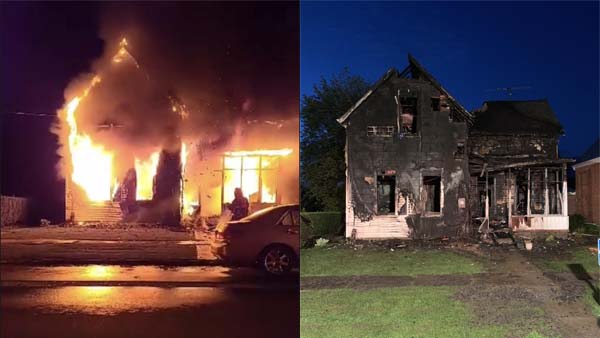 Photos by Batesville Fire & Rescue.
(Batesville, Ind.) - A fundraiser has been created for those displaced in a fatal fire earlier this week in Batesville.
One person was killed and nine others were displaced in the blaze at a two-story duplex on the 100 block of N. Park Avenue on Monday. The names of the victims have not been released.
The City of Batesville announced today that a fund has been established for community members and organizations who wish to provide financial support for those families. It is overseen by the City of Batesville's Community Development Director Steven Harmeyer in partnership with the Hispanic Community Advisory Committee. Funds will be dispersed equally among the families.
Monetary assistance can be given by visiting any FCN Bank and make a donation to the account set up as "Displaced Victims Benefit". Donations will be taken from Thursday, September 3 through Friday, September 18.
At this time, the City of Batesville will not be accepting any other forms of donations, such as clothing.
For more information contact Steven Harmeyer at sharmeyer@batesvilleindiana.us or (812) 933-6113.
RELATED STORIES: