Two men face charges in connection with a woman's suicide outside of a downtown Lawrenceburg bar on May 20.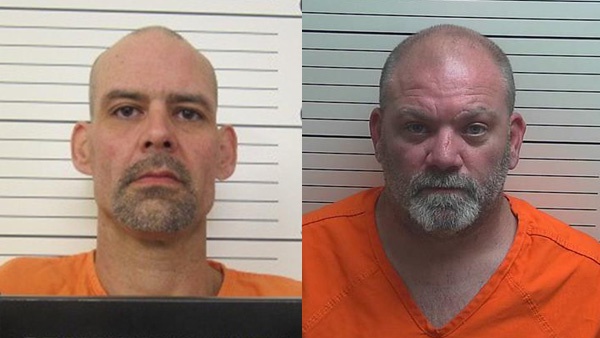 William F. Skipton (left) and Steven Melrose, Jr. Photos by Dearborn County Sheriff's Department.
(Dearborn County, Ind.) – Dearborn County prosecutors say a woman's suicide death outside a popular Lawrenceburg nightspot should have been an open and shut case, but the investigation was dragged out due to two men's actions.
A 31-year-old woman was found dead outside The Levee Breaker Bar on May 20. The victim had been shot, but police were initially unsure whether the shooting was self-inflicted.
"This was a tragic situation," Dearborn-Ohio County Prosecutor Lynn Deddens said in a news release Tuesday. "Everyone involved would have liked to resolve the case as quickly as possible for the sake of the family and friends of the deceased."
Here's what Deddens' office says happened. Lawrenceburg Police responded to the bar the night of May 20 and found the woman dead of a gunshot wound to the head. Evidence at the scene and witness statements led police to believe the wound was self-inflicted, however, the gun and shell casings were removed from the scene.
Investigators learned that a friend of the victim, William Ford Skipton, had allegedly removed the gun and casings and hid them in the ceiling tiles of the bar before police arrived.
The gun, Deddens says, belonged to him, although he was not allowed to possess it due to his status as a prior convicted felon.
A bartender at The Levee Breaker Bar, Steven Melrose, Jr., had called 911 to report the shooting. He initially told 911 operators that he did not know the whereabouts of the gun.
It was a lie in an alleged attempt to protect Skipton. Melrose would later admit to seeing Skipton move and hide the weapon and shell casings.
Deddens said the removal of the gun and casings, as well as the misleading statements, caused a delay of several weeks in closing the investigation.
"We take death investigations very seriously," said Deddens. "These men are innocent until proven guilty in a court of law, but their actions caused a significant delay while police made sure of their findings. I want to thank the Lawrenceburg Police Department and Indiana State Police for their work in resolving this matter."
Charges against the two men were filed Monday, June 18. Skipton, 44, of Lawrenceburg, is charged with Assisting Suicide (level 5 felony), Carrying a Handgun Without a License (level 5 felony), Operating a Motor Vehicle After Forfeiture of License for Life (level 5 felony), and Obstruction of Justice (level 6 felony). There is a bench warrant for his arrest.
Melrose, 46, of Lawrenceburg, is charged with False Informing (class A misdemeanor), Sale of an Alcoholic Beverage to an Intoxicated Person (class B misdemeanor).
RELATED STORIES: