Two East Central High School students are participating in the Honors Program in Foreign Language through Indiana University.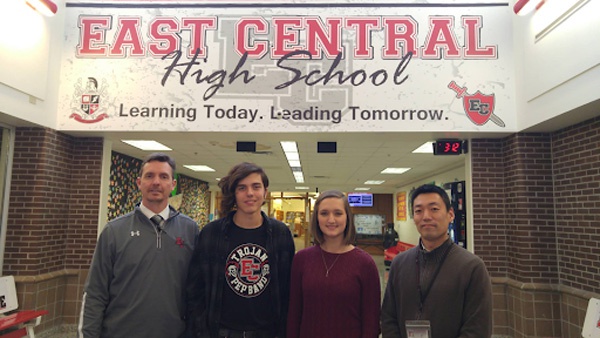 (Left to right) East Central High School principal Tom Black, student TJ Carr, student Jayna Pennington, Japanese teacher Shunichiro Kurumado. Photo provided.
(St. Leon, Ind.) - Two East Central High School students are preparing to take a once-in-a-lifetime trip in June 2019 through Indiana University, Bloomington, to Osaka, Japan.
T.J. Carr, son of Russ and Elisa Carr of Guilford, and Jayna Leigh Pennington, daughter of Jim and Jennifer Pennington of Cedar Grove, both completed their third year of Japanese, taught by Shunichiro Kuromado, at East Central High School in St. Leon, and have been accepted into the Honors Program in Foreign Language through IU. Both will be East Central High School seniors during the 2019-2020 school year.
Since 1962, there have been 38 East Central High School Students that have participated in the IU Honors Program - 21 in Spanish, 15 in French and 2 in German. T.J. and Jayna will be the first to participate in the Japanese program.
The Honors Program in Foreign Language at Indiana University coordinates students in Chinese, French, German, Japanese and Spanish language and their travel to one of the eight sponsored countries for advanced studies and cultural experiences. This year, 12 students will travel to Osaka, Japan, for five weeks of advanced study and experience. Osaka is approximately 350 miles to the southwest of Tokyo.
Shun Kurumado, or Sensei, as he is known by the students, has taught both Art and Japanese at East Central High School for over ten years. While somewhat unique in local school curriculum, many Japanese companies and their employees are located in the Indiana, Ohio and Kentucky areas.
The five-week long immersion program, incorporating high school students from across Indiana, requires that the students speak only their target language while participating in the program as they attend high school level classes and events with native students. Program students stay with host families and are allowed only one hour per week to communicate "home". Some excursions are planned in order that the group can experience local culture and history.
In December, the two EC juniors, T.J. and Jayna, chose to apply to the program which included extended conversational study, letters of recommendation, transcript submission, and a monitored 45 minute written essay in Japanese. Upon reviewing the entire application, the IUHPFL Selection Committee chose them as one of the less than 300 Indiana high school students to participate this summer!
During their five (5) weeks abroad, they will attend classes in grammar, culture, literature, phonetics and conversation with other Japanese students. In the afternoon, they will participate in planned activities such as theater, singing/music, dance, and sports.
This will be a challenge for the students, but they are well suited to manage. T.J., an Honors Student and Inductee into the National Honor Society, is a member of the Japanese Club, the Academic Team in Science, plays Bb, Alto and Bass Clarinet in the East Central Band, and participated in the Southeastern Indiana Honors Band. He also works at Steak 'n Shake in Lawrenceburg, IN.
Jayna Leigh plays the flute in the EC Band, is an Honors Student and Inductee into the National Honor Society, is the Secretary of the Japanese Club, member of the Fine Arts Academic Team, participates in the Art Club, selected to play in the Ball State Honors Band and Southeastern Honors Band, and a member of 4-H for 9 years. Jayna works at the St. Leon Skyline.
Both students would like to thank all the support and encouragement from family, friends and area-wide businesses to help make this trip possible.
To learn more about their upcoming summer experience abroad, please visit the IUHPFL website at IUHonorsProgram.org.