The single mother of five has not been seen or heard from since she said she was leaving to go to the grocery store in December 2018.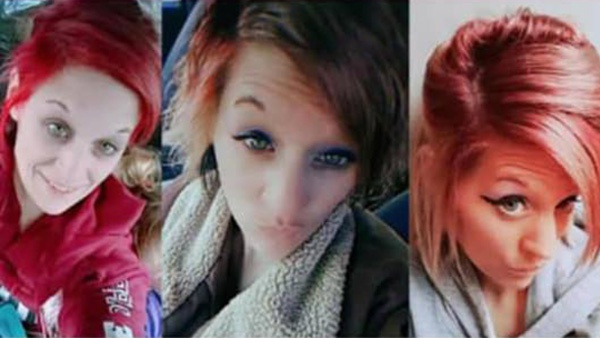 Brittany Hammond, of Patriot, Indiana, vanished in December 2018. The investigation into her disappearance is ongoing. Photos provided.
(Patriot, Ind.) - More than five months after she disappeared, Brittany Hammond remains missing.
The single mother of five was last seen leaving her home in Patriot in Switzerland County on December 12 or 13, 2018. She left run to the grocery store.
"She was living with her children's grandmother. She said she would be back in about 15 minutes. That was almost four months ago," says Jesse Riley, husband of Hammond's sister.
Hammond, 30, has not been seen or heard from since then. Riley says the family is growing frustrated with a lack of information from police.
"We don't sleep at night. My wife stays up all night crying her eyes out over it. Really, we're just lost," he shares.
With Brittany missing for five months, Hammond's relatives, most of whom live in the Harrison, Ohio area, don't expect a happy outcome.
"We hope (she is alive), but we believe that she isn't," says Riley, who claims Brittany's bank account and social media have been completely inactive since she went missing.
Switzerland County Sheriff Brian Morton says his office continues to work diligently on the case with Indiana State Police. Well over 1,000 hours and more than 20 search warrants have been put into it.
Morton shared the following statement with Eagle Country 99.3:
"Our office continues to work diligently on this case. Our Detective, with the help of Indiana State police have well over a thousand hours working on this case alone. Our office has applied and executed over twenty search warrants in this investigation. We have followed up on countless leads as well. Our office remains committed to investigating every possible lead in this case.
Our office has made the decision to no longer share information on this case as this is an ongoing investigation. Information that has not been shared with the public or family has been deemed case sensitive information. Our office has shared information in the past, and the information shared was misconstrued, and sometimes exaggerated. Our office will continue to make every effort to locate the whereabouts of Brittany Hammond, and pursue any criminal charges associated with the investigation. We would like to stress that sharing sensitive information in an ongoing criminal investigation could have detrimental effects on the case and could hinder our ability to pursue certain criminal charges. The fact that details of a case isn't being openly shared by no means indicates that an investigation is not active."
Anybody with information on Brittany Hammonds' disappearance should contact the Switzerland County Sheriff's Office at (812) 427-3636.
Hammond's relatives have been attempting to raise money for a reward for information about her disappearance. Donations are being accepted on GoFundMe.
RELATED STORIES:
Family Raising Reward Money For Missing Mother's Return
Police Still Investigating Switzerland County Woman's Disappearance