Head to Rising Sun this weekend for navy bean soup and some cornbread.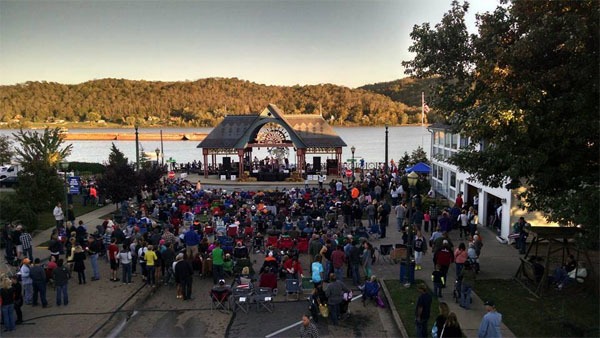 The 2018 Rising Sun Navy Bean Fall Festival happens October 12 and 13. Photo courtesy Rising Sun/Ohio County Tourism.
(Rising Sun, Ind.) - It might be colder weather this weekend, but at least you can warm up with some delicious soup at the Rising Sun Navy Bean Fall Festival.
The annual celebration happens on Main and Front streets in Rising Sun on Friday and Saturday, October 12 and 13.
There will be rides and a sea plane splash-in on the Ohio River.
Live music Friday night includes Seven Bridges and Chuck Brisbin & the Tuna Project. The Oh Baby Navy Bean and Sweet Baby Genes baby contest will be held inside Heritage Hall starting at 6:30 p.m.
On Saturday, the Navy Bean Parade starts at 11:00 a.m. The parade grand marshal is Gerald "Bush" White, a local World War II Purple Heart veteran who took part in the D-Day invasion of Normandy.
Saturday afternoon and evening entertainment will be provided by The Stampede String Band, Black Bone Cat, The Menus, and The Rusty Griswolds.
Temperatures will become more fall-like this weekend, with highs in the mid-50s Friday and Saturday, but that shouldn't deter the crowds. You'll be able to get a bowl of hot and hearty navy bean soup – and perhaps some cornbread to go with it – for as long as supplies last.
Find more information about the festival at www.navybeanfestival.org.