Dyke's expansion will create 50+ jobs in southeast Indiana.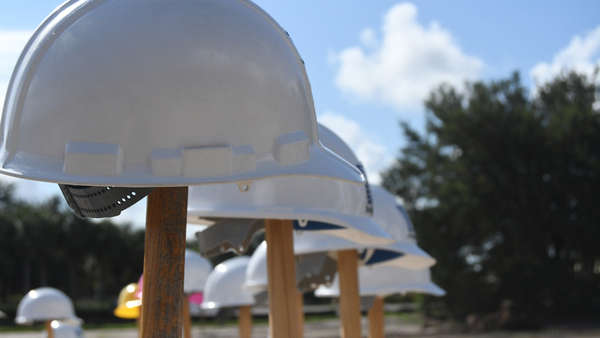 Shutterstock photo.
(West Harrison, Ind.) – More than 50 new jobs are being created in southeastern Indiana.
Dyke Industries Inc., a nationwide wholesale distributor of millwork and related products, celebrated today a groundbreaking ceremony at the site of their new manufacturing facility on at the West Harrison Business Park on Harrison Brookville Road.
The company is investing approximately $12.8 million to establish and equip the 150,000-square-foot facility with state-of-the-art, high-speed interior and exterior door lines as well as other technological specialized equipment.
At a Dearborn County Council meeting earlier this year, general manager Pat Doyle said the company has outgrown its nearby Erlanger, Kentucky location, and that the West Harrison Business Park was an ideal location for expansion due to its interstate access, labor environment and willing government partner.
"Indiana was a strategic decision made based on multiple factors including tax incentives, available land and labor pool coupled with the ability for future expansion into markets we do not currently serve today," added Doyle.
The Indiana Economic Development Corporation offered Dyke Industries Inc. up to $400,000 in conditional tax credits based on the company's job creation plan. These tax credits are performance-based, meaning the company is eligible to claim incentives once Hoosiers are hired.
Currently, Dyke Industries plans to create up to 56 new jobs by the end of 2024.
Dearborn County has agreed to provide additional incentives in welcoming this first development at the West Harrison Business Park.
"Dearborn County welcomes Dyke Industries to Indiana," said Jim Thatcher, president of the Dearborn County Board of Commissioners. "Their investment represents some of the first fruits of our county's investment in the West Harrison Business Park along I-74. Many people have contributed in preparing West Harrison for economic development projects like Dyke Industries, and because of that work, we can now welcome this amazing company."
Dyke Industries is expected to be fully operation by the second quarter of 2022.
Hiring is expected to begin for both warehouse and office positions by mid-2022. Interested applications may apply online or in person once the facility has opened.
For more information about Dyke Industries, visit Dyke Industries (dykedoors.com).
RELATED STORIES
Dearborn Co. Redevelopment Lining Up Business For West Harrison Business Park