The Redevelopment Commission cleared a major hurdle on Tuesday.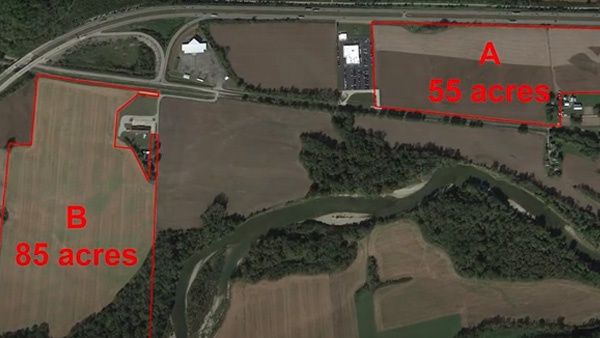 Plot A is owned by the Dearborn County Redevelopment Commission and is the potential site for Dyke Industries. Still photo from a virtual tour produced by Wilcox Environmental.
(Lawrenceburg, Ind.) - It is not a done deal, but a long-standing business is close to moving one of its distribution facilities to Dearborn County.
Dearborn County Council held a public hearing on Tuesday afternoon where the Dearborn County Redevelopment Commission requested council adopt a confirmatory resolution to establish the West Harrison Economic Revitalization Area and a resolution for abatement benefits for real property and personal property tax abatements at the full 55 acre West Harrison Business Park, located along the Interstate 74 corridor.
Both motions passed with a 5-2 vote, clearing two big hurdles for the Redevelopment Commission to move forward with the sale of land near Hirlinger Chevrolet.
The Redevelopment Commission has been working for several months on a development known as "Project Open Door", a project that would bring Dyke Industries to Dearborn County.
Dyke Industries is a privately held company, headquartered in Little Rock, Arkansas, which has been in business since 1866. They specialize in producing residential and commercial building materials including interior and exterior doors, millwork, and windows. Dyke has 15 distribution outlets that provides quality products to 18 states.
According to general manager Pat Doyle, the company has outgrown its Erlanger, Kentucky location and is looking to relocate to the West Harrison Business Park.
The area has the interstate access, labor environment, and willing government partner Dyke Industries seek.
"We're excited about the move here to Dearborn County," said Doyle. "The business that we are in requires us to have good labor, good people. We want to take care of the people. We think that Dearborn County is a great area for us to pull in employees from."
Dyke Industries plans to build a 137,000-square-foot facility, which would bring approximately 56 new jobs to Dearborn County over the next few years.
Individuals with a construction background will have an idea of what Dyke Industries does, according to Doyle. He added that most of the skilled training would be done on the shop floor.
Not all agreements have been signed just yet.
Dearborn County Redevelopment, who owns to West Harrison Business Park property, has drawn up a tax abatement plan for a 10-year period at 80 percent each year, which essentially reduces the amount of property tax owners pay on new construction, rehabilitation, and/or major improvements.
Dyke Industries representatives stated on Tuesday that a deal to come to Dearborn County would be tough to accomplish without the tax abatement. Still, the potential deal between Dyke and the county could be looked at as one that will be beneficial long team by establishing a solid tax base and local income tax revenue for years to come.
The next part of the process would be the land sale.
If and when the sale goes through, Dyke Industries could break ground later this year.
For more information on the West Harrison Business Park, visit 1dearborn.org.