A July 24 community roundtable meeting will allow parents, students, and voters to sound off about South Dearborn Community School Corporation's current problems.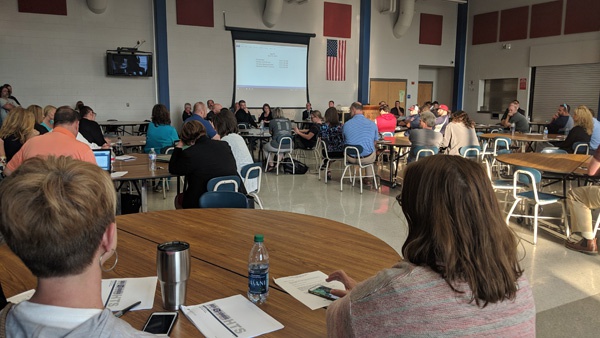 South Dearborn Community Schools held a work session on Tuesday, April 23, 2019. Photo by Mike Perleberg, Eagle Country 99.3.
(Aurora, Ind.) – South Dearborn Community Schools' facilities and enrollment will again be the topic of discussion Wednesday evening, July 24.
SDCSC Superintendent Eric Lows is holding the latest in a series of community meetings. It will run from 6:00 to 8:00 p.m. at the South Dearborn Middle School cafeteria. The public is welcome to attend.
This week's meeting is expected to focus on the high school improvement project under consideration.
In April, the school corporation announced that they may have to close down one or more schools in the face of dwindling enrollment, while potentially investing millions of dollars in the high school.
Much information about the challenges facing the school corporation were laid out at that April meeting. Read about it here.
RELATED STORIES:
School Board Work Session Becomes Larger Discussion On South Dearborn's Future
Taxpayers' Efforts Successfully Stop SDHS Improvements, For Now
LETTER: City Of Aurora Seeks Transparency In South Dearborn HS Building Project
South Dearborn Board Won't Close School... Yet
Passionate Moores Hill Residents Come Out To Fight Possible School Closure