Reasons for the county councilman's departure are a mystery.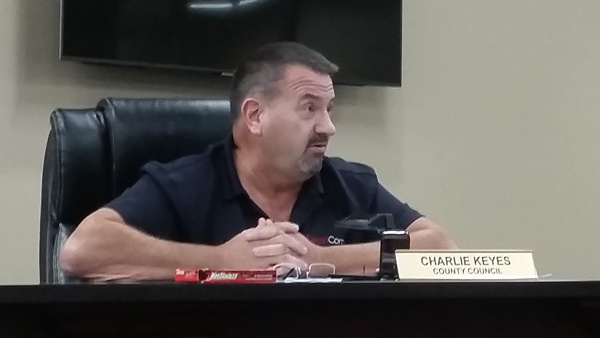 Charlie Keyes. Photo by Mike Perleberg, Eagle Country 99.3.
(Dearborn County, Ind.) - A member of Dearborn County Council has resigned, but the reason why is unclear.
Charlie Keyes abruptly resigned from council on January 16, according to a letter submitted to the Dearborn County Clerk of Courts Office. The letter was shared at the Dearborn County Council meeting on January 22.
The reasons for Keyes' resignation are murky. He did not name a reason in his resignation letter. In a caucus announcement released Monday, the Dearborn County Republican Party does not share a reason either.
The GOP will hold a caucus to fill the vacancy on county council on Wednesday, February 6 at 6:30 p.m. at the Dearborn County Government Center in Lawrenceburg. Precinct committee chairs will cast their votes for the new councilperson.
Those interested in filling Keyes' at-large seat on county council have to file a declaration of candidacy and get in touch with party chairman Jim Thatcher at least 72 hours before the caucus.