Nobody was injured, but the classic car's owner may have shed a few tears Thursday.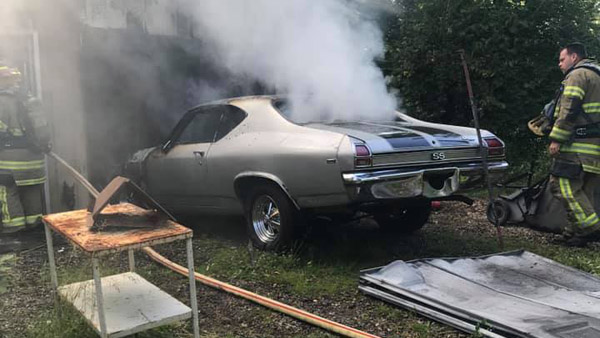 Photo by Harrison Fire Department.
(Bright, Ind.) - A 1969 Chevrolet Chevelle was a beauty of a classic car - until it burst into flames.
Bright Fire & EMS Capt. Kendall Eberhart says the department was called to a garage fire on the 22900 block of Brightland Drive at around 6:30 Thursday, May 30. The firefighters put out the fire in the detached garage and the muscle car.
"The cause was the car itself. The owner was pulling the car into the garage when he saw flames. The car was halfway in the garage when it started," says Eberhart.
The garage and car are both believed to be losses, he added.
Nobody was injured.
Bright firefighters were aided by Harrison Fire Department. They remained on the scene for about two hours Thursday evening.