Lauren and her story will never be forgotten.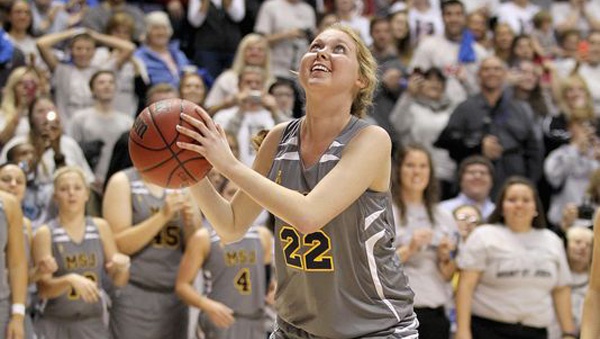 (Lawrenceburg, Ind.) – Today is a day of remembrance for Lauren Hill.
The City of Lawrenceburg has issued a proclamation recognizing April 22, 2021 as Lauren Hill Day.
Hill, a Lawrenceburg High School graduate, passed away in April of 2015 at the age of 19 after a courageous battle with diffuse intrinsic pontine glioma (DIPG).
She became an inspiration to other children and young adults with cancer by accomplishing her dream of playing college basketball at Mount St. Joseph University. Her story helped raise awareness for DIPG, leading to the creation of the Lauren's Fight for Cure Foundation, which donates to cutting edge research through the DIPG Collaborative and provides support for young adult DIPG brain cancer families.
Locally, the City of Lawrenceburg and the Dearborn County Community Foundation enabled the Lauren Hill Make a Difference Fund to ensure grants are available to address the changing needs in the community.
MSJ students continue to feel the impact of Hill with the Forever 22 Scholarship.
Her memory is also kept alive through the annual Lauren's Burg Hill 5K. The 7th annual event will take place on Saturday, June 19 in downtown Lawrenceburg.
Proceeds from the event support Lauren's Fight for Cure. Registration is available now at www.racemenu.com/LaurenHill.
From the City of Lawrenceburg:
April 22, 2021 will be a day of remembrance for Lauren Hill as a courageous young lady who has inspired all of us with her numerous accomplishments, courageous attitude and dedication to raising funds for cancer research especially while battling a terminal disease.
RELATED STORIES
Lauren's Burg Hill 5K, 5-Mile Races Return To Downtown Lawrenceburg June 19