The 150-unit Whiskey River Apartment complex is expected to be completed by the Summer of 2022.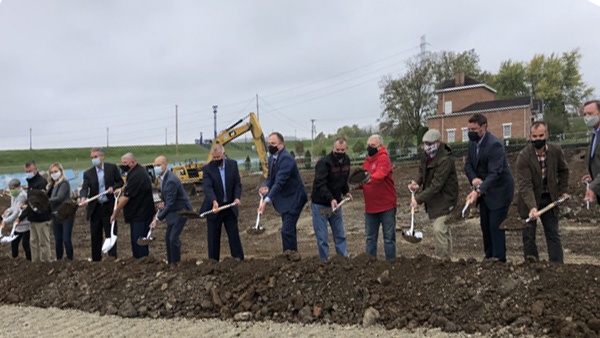 Photo by Miranda Boyles, Eagle Country 99.3.
(Lawrenceburg, Ind.) - The City of Lawrenceburg and Flaherty & Collins Properties have officially broke ground on a new $32 million apartment complex.
A special groundbreaking ceremony was held on Monday morning at the construction side at 500 West High Street in downtown Lawrenceburg.
Mayor Kelly Mollaun was among the speakers at Monday's ceremony, thanking everyone with the City, the Redevelopment Commission, the Dearborn County Historical Society and City Council, among others, for helping make the Whiskey River Apartments a reality.
The project has been in the works for approximately four years. When it is completed, the complex will feature 150 luxury apartments, averaging 806-square-feet. A majority of the units will be one bedroom (53 percent), while 36 percent of the complex with include two bedroom apartments. Studio apartments will also be available.
Each unit will feature modern finishes, LED lighting, Quartz countertops, stainless steel appliances, washer and dryer. Most units will have private balconies.
There will also be 97 surface parking spaces, 74 garage tuck under spaces and 14 on-street parking spaces.
Amenities include:
- Pool
- Lounge and grills
- Public Green Space
- Fitness Center
- Bark Park & Dog Spa
- Courtyard with Outdoor Kitchen
- Bike Storage with Wash & Repair System
- Parcel Delivery System
- Controlled Building Access
The Whiskey River Apartments are expected to be completed by Summer of 2022.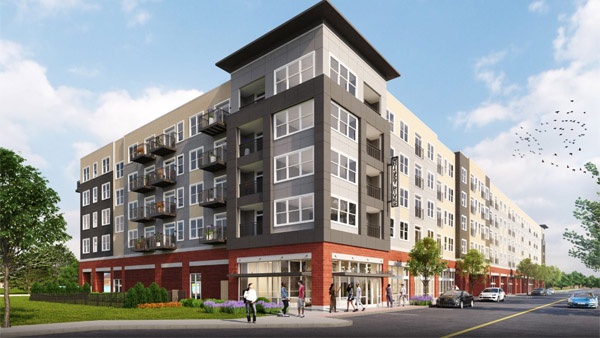 A rendering of the Whiskey River Apartments. Photo provided.
RELATED STORIES
City Of Lawrenceburg To Break Ground On $32 Million Apartment Complex On Monday
AUDIO: Mayor Mollaun Talks New Apartment Complex