Over $5,000 was raised to support Maggie Cole's battle.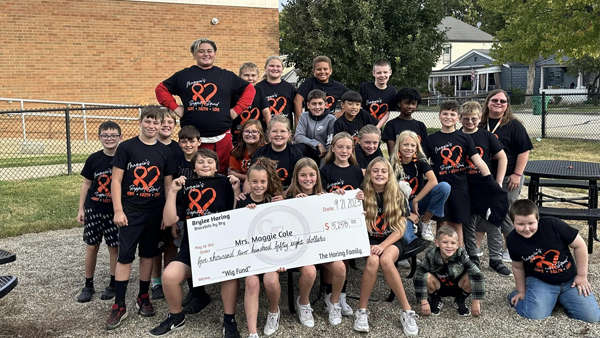 Photo courtesy Central Elementary School.
(Lawrenceburg, Ind.) - A 5th grade student, her family, and the community have all contributed to an amazing gift.
On Thursday, students and staff gathered at Central Elementary School where Brylee Haring presented a check for $5,258 to her teacher Maggie Cole via FaceTime.
Haring raised the money by creating and selling bracelets for $5 each to support Cole's battle with leukemia. Her father, Noah, a realtor with Lohmiller Real Estate, matched the proceeds made by his daughter to get to the total above.
Cole was diagnosed with AML earlier this summer and was unable to start the school year with her class. During Thursday's FaceTime session, Mrs. Cole was able to interact with her students.
"We are truly touched by the incredible support and generosity of our amazing community," reads a Facebook post from Central Elementary School.
Cole completed her first round of chemotherapy earlier this month. Her next step is going to the out-patient cancer center regularly for blood/platelet transfusions and to get her levels checked.
You can follow Cole's journey at https://www.caringbridge.org/visit/maggiercole.
RELATED STORIES
CES Student Selling Bracelets to Support Her Teacher's Battle with Leukemia