Between the royalty and the attendees, this year's Mardi Gras ball was a huge success!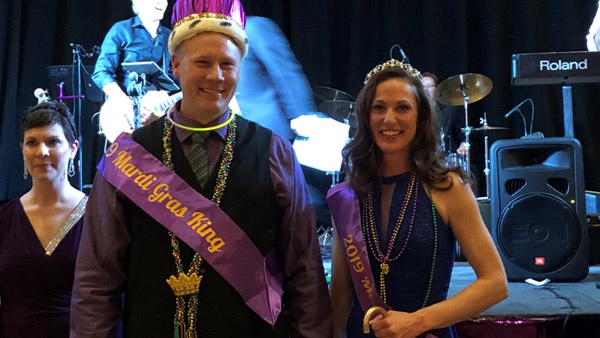 Dearborn County's Casey Knigga and Toni Minning were crowned the CAC Mardi Gras Ball King & Queen on Saturday, February 23, 2019. Photo by Mike Perleberg, Eagle Country 99.3.
(Dillsboro, Ind.) – The Children's Advocacy Center of Southeast Indiana is sending a huge 'thank you' to those who made their annual Mardi Gras fundraiser a success.
Over 600 people attended the fifth annual Mardi Gras ball at the Lawrenceburg Event Center on February 23.
The CAC announced Tuesday that the event raised $133,535. The funds will help CAC cover increased costs from expanded space at their satellite CAC in Madison, furnishing for a new satellite office in Greensburg and matching grants.
"First and foremost, a huge 'thank you' from the bottom of our hearts for helping us raise over $130,000 for CACSEI," says Kelly Bridges, Associate Director of CACSEI.
A bulk of the fundraising was done by the king and queen candidates, whom raised over $61,000, including $32,367 from Mardi Gras King and Queen Casey Knigga and Toni Minning.
"There are many places people can donate their time and money in southeast Indiana," said Stephanie Back, Executive Director of CACSEI. "That they choose this CAC and these kids is humbling. We are forever in their debt."
The Mardi Gras fundraiser held at the Lawrenceburg Event Center has become a "who's who" event in southeastern Indiana. Next year's event will be held on February 29.
Updates about the event can be found on the CAC Mardi Gras Facebook page.
RELATED STORIES: