The Children's Advocacy Center Mardi Gras Ball crown will stay in Dearborn County.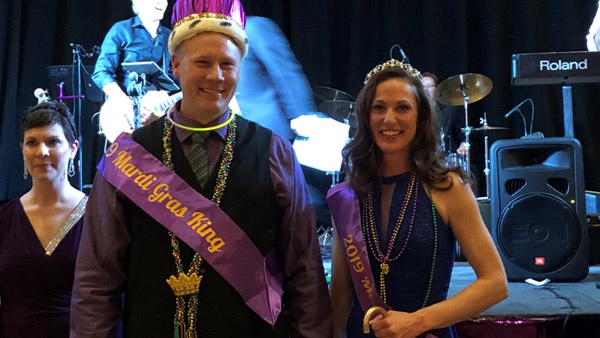 Dearborn County's Casey Knigga and Toni Minning were crowned the CAC Mardi Gras Ball King & Queen on Saturday, February 23, 2019. Photo by Mike Perleberg, Eagle Country 99.3.
(Lawrenceburg, Ind.) – The Children's Advocacy Center of Southeastern Indiana pulled off another big Mardi Gras party on Saturday, February 23.
The CAC Mardi Gras Ball is the biggest fundraiser of the year for the Dillsboro-based non-profit organization which provides a safe, secure and comfortable environment for victims of child abuse to be interviewed and their cases investigated by specially-trained interviewers.
Couples from five counties served by the CAC competed to gather the most "votes" to become the Mardi Gras king and queen. Voting was done by donations, with $1 equaling one vote.
The crown and tiara were returned to Dearborn County thanks to Casey Knigga and Toni Minning. The couple who operate Casey's Outdoor Solutions & Florist in Lawrenceburg raised a record $32,367.69.
Other couples did great work fundraising in their communities as well:
Jefferson County's Dave and Kate Sutter $9,816.00
Switzerland County's Allen and Jennifer Scudder $8,840.40
Ripley County's Paul and Kim Adams $5,584.43
Ohio County's Joe and Carrie Fisk $4,810.15
The couples raised a combined $61,418.67 for the CAC. A final fundraising total including auction, silent auction and last-minute donations is still being tallied and may be released in the coming weeks.
The event held at the Lawrenceburg Event Center has become a "who's who" event in southeastern Indiana. This year's ball presented by CalComm Indiana sold out about a month ahead of time.