Lawrenceburg resident Bryan Wagner ran nearly 37 miles in a span of 37 hours during the races in Cincinnati.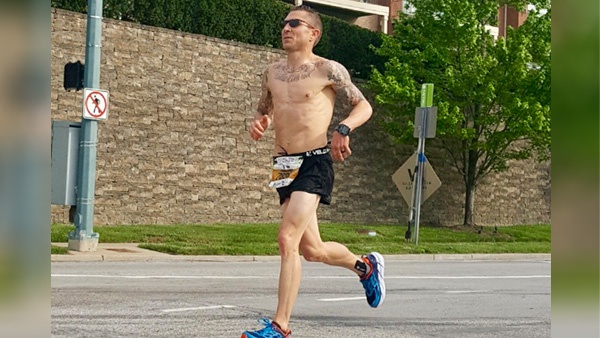 Bryan Wagner running in the 20th Flying Pig Marathon on Sunday, May 6, 2018. Photo provided.
(Lawrenceburg, Ind.) - Bryan Wagner has only been an active runner for about four years. Fueled by his competitive heart, the distance the Lawrenceburg resident has come since picking up the activity have been nothing short of impressive.
Wagner finished 28th overall in 2017's Flying Pig Half-Marathon in Cincinnati. This year he opted to give the full Flying Pig Marathon a whirl.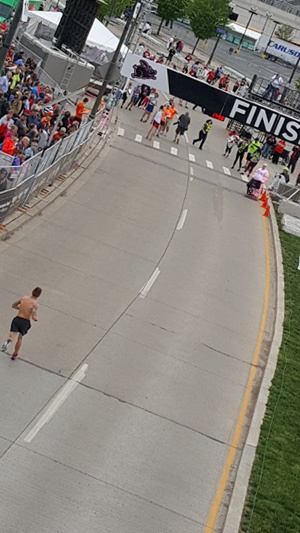 And a whirl it was. He completed the 26.2 mile run in three hours, five minutes to place 79th out of nearly 6,000 full marathon runners. It is his personal record time for a full marathon.
Even more impressive is that Wagner competed in other events part of the Flying Pig weekend. He ran the Little Kings Mile race in 5:11 (23rd overall) on Friday, the Toyota 10K race in 38:07 (11th place) and the Tri-State Running Company 10K race in 18:07 (4th place) on Saturday morning. Combined with the full marathon, that's about 36.5 miles worth of running in a 37 hour window.
Of all runners who competed in the 4-Way Challenge with Extra Cheese, Wagner had the second best combined time.
"I had an insanely awesome weekend, with ups and down along the way," says Wagner, a St. Lawrence School teacher.
He chose to enter the Challenge at the suggestion of some friends and local race promoters who said he would have a good shot at winning it.
How does Wagner train to become and maintain his status as a prolific runner? He tries to get in at least two or three short training runs during the week, then going on longer runs on the weekends.
"With my wife's demanding work schedule and having two young daughters, time management is crucial for training. Luckily, I can substitute not being able to get outside for a run by riding my indoor bicycle or going to the YMCA to swim at 5:00 a.m.," he says.
His training for this year's Flying Pig began back in January. He began at six miles for his long runs, then worked up to 23 miles. He was logging 20 up to 50 miles per week.
Fitness is the largest factor in Wagner's dedication to running, but he credits his competitive nature for excelling in races.
"I raced motocross up until our first daughter was born and found running to fill the void of motocross. Running is simple and does not require much equipment and you can do it about anywhere, anytime," he shares.
"I think I am able to improve my times and results each year by being more fit and training smarter. My nutrition is key and I am very conscious how I fuel for my training. I also think now that I have taken up cycling and swimming it helps to not get burnt out on running."