A man's life was on the line when the deputies jumped into action.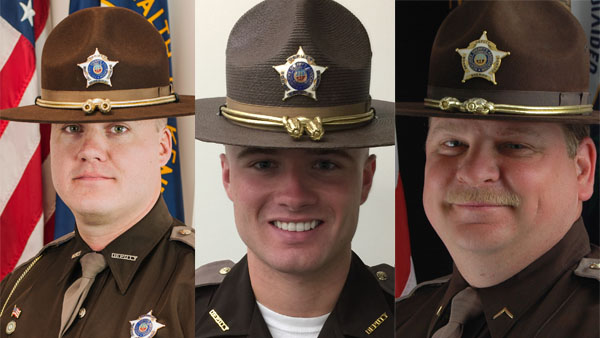 Deputy Nick England, Deputy Richard Pauls and Sergeant Jared DeMoisey. Photo provided.
(Boone County, Ky.) – Three Boone County Sheriff's deputies are being recognized for their heroic actions during a fiery single-vehicle crash.
On Monday, Sheriff Michael A. Helmig honored Sergeant Jared DeMoisey, Deputy Nick England and Deputy Richard Pauls. England and Pauls received the Sheriff's Citation for Bravery Medal, while DeMoisey received the Deputy's Medal.
Each risked their lives to help a man trapped in a fully engulfed vehicle that had crashed on northbound Interstate 75 around 9:20 p.m. on July 4.
The Boone County Sheriff's Office was assisted at the scene by a Kentucky State Police Trooper and Kenton County Police officers, who worked tirelessly to remove David Harris Jr., 51, of Reynoldsburgh, Ohio from the wreckage.
Harris was ultimately pulled from the flaming vehicle but succumbed to multiple injuries a day later at University Hospital in Cincinnati.
England, a seven-year veteran and Pauls, an eight-month deputy in Field Training Officer (FTO) status, never left the vehicle or the victim while fighting the fire in an attempt to save his life.
DeMoisey, a 25-year veteran, who couldn't get to the scene due to stopped traffic, immediately started flagging the left lane traffic to proceed through to allow the fire apparatus clearance to get to the scene.