Turnover Hunger supports the Weekend BackSack program.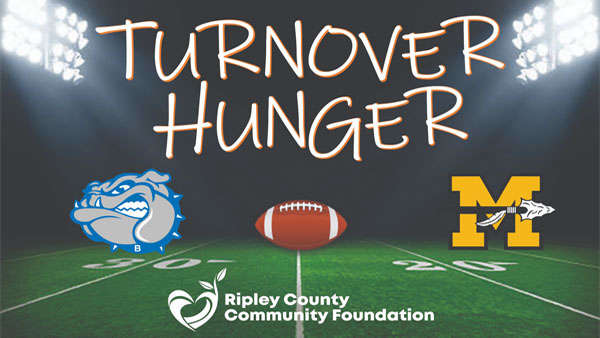 Photo provided.
(Ripley County, Ind.) - Batesville High School and Milan High School varsity football teams are teaming up for the 2022 season to Turnover Hunger through the Weekend BackSack program.
Turnover Hunger is a program supported by the Ripley County Community Foundation that accepts donations or pledges for every turnover that participating football teams force in their games during the 2022 season. To participate, you may pledge a dollar amount for every turnover Batesville and/or Milan, force, or you may make donations in support of your favorite team's efforts. At the end of the season, all pledges will be collected and donations will be granted to Batesville Primary School, Jac-Cen-Del Elementary School, Milan Elementary School, South Ripley Elementary School, and Sunman Elementary School. These grant dollars will offset the cost of the Weekend BackSack Program, which sends a backpack of nonperishable, kid friendly food home with elementary school students on the weekends.
According to Gleaner's Food Bank, 1,040 children in Ripley County are food insecure. The Weekend BackSack program ensures that food insecure children have adequate nutrition on non-school days.
You can get involved by contacting a varsity football player at Batesville or Milan, by visiting our website at www.rccfonline.org and making a pledge or a donation, by calling 812-933-1098, or by stopping in at the Ripley County Community Foundation office located at 13 E. George Street, Suite B, Batesville, IN 47006. This is just one more way that the Ripley County Community Foundation is Connecting People Who Care with Causes that Matter!