How does your county stack up in these important categories? Find out here.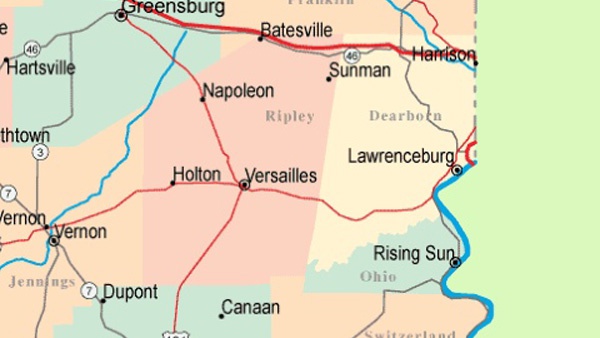 (Lawrenceburg, Ind.) - A Ball State University study gives Indiana counties grades for people, health, education, government, art and entertainment, and public amenities.
The report, "Community Asset Inventory and Rankings," is by the Center for Business and Economic Research at BSU. Researchers summarize the major changes in rankings for all categories of CAIR between 2012 and 2018.
As part of the report, researchers also have developed an interactive site, creating a quality-of-life snapshot for each county in Indiana.
So how did Southeastern Indiana fare in the 2018 ratings?
For the category of people's conditions, the report considered factors such as population growth, poverty rate, unemployment rate, private foundations revenue per capita, and other nonprofit revenue per capita. Ripley County rated as a B, while Dearborn, Franklin, Ohio, and Switzerland counties were all given a C.
For Health of Human Capital/Workforce, Franklin County was an A, Ripley and Ohio counties a B, and Dearborn and Switzerland counties a C. This category measured fertility rates, poor physical and mental health days, motor vehicle crash deaths, cancer deaths, asthma rates, primary care providers, and access to food.
Education of Human Capital/Workforce measured ISTEP test pass rates, high school graduation rates, and education attainment. In this category, Dearborn and Ripley counties receive a B, Franklin County a C, Ohio County a D, and Switzerland County received a F.
Government Impact and Economy measured counties' measured government influences and economic conditions affect the likelihood that a business will settle in a community. Factors include crime rate and tax rates, as well as other factors. Ohio County was an A, Dearborn and Franklin counties a B, Switzerland County a C, and Ripley County earned a D.
In the category of arts, entertainment and recreation, Dearborn County earned a B, Franklin and Ripley counties got a C, and Ohio and Switzerland counties received a D. The category measured per capital personal income, employment, and number of parks, athletic fields, marinas, restaurants, and other places.
Researchers also developed a housing barometer tool for each county based on a county's home prices relative to the state and its growth. The housing barometer evaluates county housing markets using county-wide home values and the relative growth rate over eight years.
When compared to the state average for value and growth, these variables indicate which of four housing market scenarios is present in a given county. The best category is "growing," followed by "recovering," "warning" and "distressed."
Ohio County was the only southeastern Indiana county to appear in the "growing" scenario. Switzerland County was observed in "recovering." Dearborn and Franklin counties were under "warning." Ripley County was among the counties where housing was "distressed."
More details on each county are available on the Community Asset Inventory and Rankings report's interactive website at https://cair.cberdata.org/.