Jared Ewbank will provide legal counsel to elected members of Aurora city government.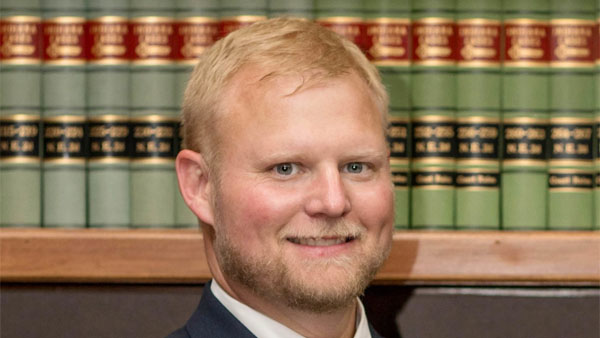 Jared Ewbank. Photo provided.
(Aurora, Ind.) - Jared J. Ewbank, of Ewbank & Kramer law office in Lawrenceburg, Ind., has been named attorney for the City of Aurora. His appointment became effective Jan. 1, 2021.
In his role as city attorney, Ewbank will provide legal counsel to Aurora Mayor Mark Drury, Aurora City Council and other elected and appointed members of Aurora city government.
Mayor Drury welcomes Jared to Aurora and states, "He will be a vital link in the fulfillment of the vision of Aurora and its growth into the future."
Ewbank is a graduate of Lawrenceburg High School and earned his bachelor's degree from Xavier University. Ewbank received his law degree from the Salmon P. Chase College of Law at Northern Kentucky University, where he graduated Magna Cum Laude.
Formerly manager of Ewbank Land Title, Ewbank is a member of the Indiana Land Title Association and has particular expertise in real estate law. His full scope of practice includes administrative law, business law, criminal law, civil litigation, estate planning, family law, landlord/tenant, municipal law, probate, and personal injury.
"I look forward to working with Mayor Drury and Council in continuing to make the City of Aurora one the best places to live, in Southeastern Indiana," says Ewbank.
Ewbank is a member of the Dearborn-Ohio County Bar Association, Indiana State Bar Association and Indiana Trial Lawyers Association. He has served since 2018 at the request of U.S. Senator Todd Young (R-IN) — on the Senator's military academy selection committee. In this role, he and other committee members interview and recommend Indiana's candidates for the U.S. Merchant Marine Academy in New York.
Ewbank lives in Greendale with his wife, Dama, and their two children, Gabe and Josie. He is a member of the Knights of Columbus Council 1231 in Lawrenceburg and formerly served on the board of Lawrenceburg Main Street and the Highpoint Health Hospital Foundation.