Golf carts and other similar motorized devices may be used within the city limits beginning January 1, 2021.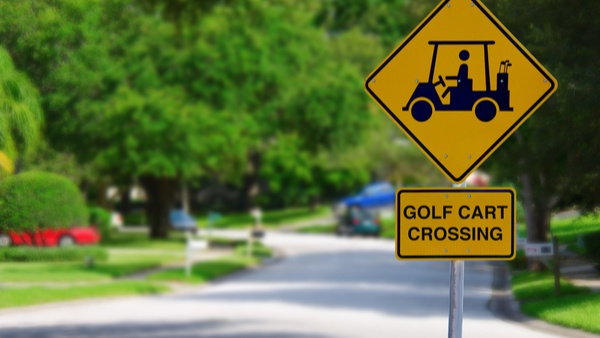 Shutterstock photo.
(Aurora, Ind.) – Aurora City Council has passed an ordinance allowing the use of golf carts and other similar devices on City roadways.
The ordinance was passed by City Council on October 13 and will be effective January 1, 2021.
Under the ordinance, motorized carts may only be operated within the corporate limits of Aurora by an individual that holds a valid driver's license, or by an individual that is at least 16 years and 180 days of age that holds an identification card.
Golf carts and other motorized vehicles may not be used on the following streets and highways:
US 50 / Green Boulevard
State Road 56 / Decatur Street / Judiciary Street / Water Street
State Road 148 / Sunnyside Avenue
State Road 350
Motorized carts are required to have functional headlights, taillights, brake lights and turn signals.
A motorized cart may be characterized as a golf cart, utility cart, or similar form of motor vehicle. Not included are electric personal assistive mobility devices, motorcycles, motor scooters, motorized bicycles, and off-road vehicles.
According to the ordinance, motorized cart usage is only permitted between the hours of 7:00 a.m. and 11:00 p.m. Normal traffic laws and regulations apply.
Registration is required to begin using a motorized cart should bring their cart to the Aurora Police Department to complete a motorized cart checklist and confirm working order of the cart. The next step is to take the completed checklist to the Clerk-Treasurer, along with proof of financial responsibility and payment of $25.
The full ordinance can be seen here.