Talks will be directed to the Agricultural and Residential Zoning Districts in the county.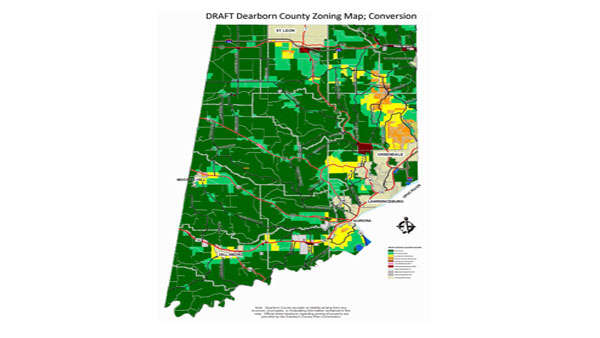 (Dearborn County, Ind.) - The Dearborn County Plan Commission would like to welcome all members of the community to 3 upcoming public workshops (see details below), to discuss DRAFT updates to the Dearborn County Zoning Ordinance and the Zoning Map—specifically with respect to the Agricultural and Residential Zoning Districts. Both the existing and proposed zoning ordinance text and map will be prominently posted on the Department of Planning & Zoning's home page for at least the next 45 days: www.dearborncounty.org/planning *An online survey is also available at: https://www.surveymonkey.com/r/DearbornZoning2. Please note: Regardless of changes that may occur to the Zoning Ordinance or the Zoning Map, the changes made will not affect the taxes that property owners owe or pay—as taxes are based on each landowner's current use of property in association with the State of Indiana's taxing system, which does not take zoning into account.
HEAR DOUBLE T'S INTERVIEW WITH MARK MCCORMICK, DIRECTOR OF PLANNING AND ZONING IN THE AUDIO PLAYER BELOW
The first public workshop on Thursday, September 30, 2021, will be held from 6pm-8pm at the North Dearborn Library, located at 25969 Dole Rd, West Harrison, IN 47060.
The second public workshop on Wednesday, October 13, 2021, will be held from 4:30pm-6:30pm at the Dillsboro Town Hall, located at 13030 Executive Dr, Dillsboro, IN 47018.
The third public workshop on Saturday, October 23, 2021, will be held from 10am-12pm at the Lawrenceburg Library (Ewbank Room), located at 150 Mary Street; Lawrenceburg, IN 47025.
All citizens and business owners in Dearborn County are invited to attend one or both of these sessions, and are also encouraged to submit written comments by mail to: Dept. of Planning & Zoning, 165 Mary St., Lawrenceburg, IN 47025, or by email to planningpublic@dearborncounty.in.gov, or complete the aforementioned online survey.
Background
Both recent (2019) and previous (2004) housing studies in Dearborn County have identified a demand for more housing options. Since the original zoning ordinance and map were created in 1965, there has always been one Agricultural Zoning District and one Residential Zoning District. As the county ordinances have not been changed to account for certain types of residential uses and structures, these types of development have been limited—in terms of the types of housing that can be built without variances, conditional uses, and / or rezones, and also the options available in the (unincorporated areas of the) county for lots for residential uses and related uses, improvements, and amenities.
Last year, on October 21, 2020, the Dearborn County Plan Commission and staff, along with a consultant team, held 2 public workshops to review and discuss draft changes to the text of the Dearborn County Zoning Ordinance—specifically with respect to Agricultural and Residential Zoning Districts, including: adding new zoning districts, potential changes to permitted and conditional uses within each zoning district, new or expanded or amended definitions of uses and limitations related thereto, and changes to dimensional standards such as setbacks, minimum lot sizes, lot widths, etc. At these 2 previous public workshops and for several weeks before and afterwards, the Dearborn County Plan Commission and staff also conducted an online survey to get the community's feedback on the draft texts. After seven (7) months of careful consideration and analysis of all of the feedback received from both the workshops and survey, the Zoning Technical Advisory Group, County staff, as well as the Plan Commission and the consultant team made several changes to the draft texts to reflect and address the community's expressed preferences and concerns—and to address additional internal questions and issues that surfaced.